Häuser für Waisenkinder e.V.
managed by Susanne Koschewski
About us
We, the non-profit association "Häuser für Waisenkinder e.V.", together with our cooperation partner "Mbaga Orphaned Children's Centre" in Siaya, Kenya, provide sustainable development work and humanitarian aid.

"Life is not fair" was already taught to us as a child. Maybe that's why so many people accept the injustice in the world. But we are convinced that change is possible, and therefore, aware of our global responsibility, we fight against poverty and disadvantage and passionately advocate for children in need. Currently, we enable about 190 children to attend school, with two hot meals a day, medical care and accommodation for about 14 children in an orphanage. A holistic approach is important to us: quality education, simple ecological solutions, sustainable construction, healthy food, and empowerment of families and staff.
Latest project news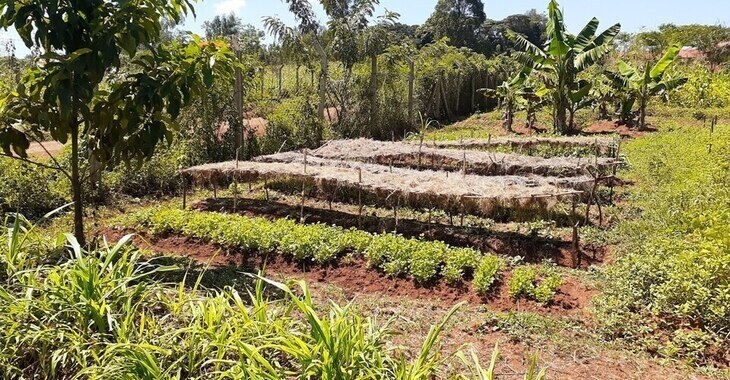 We received a payout of €607.72
Die Spendensumme kommen zu 100% dem Farmprojekt in Siaya zugute.
 
Von einem Teil dieser Summe werden die drei fleißigen Gärtner neue Gummistiefel, einen schicken Overall und neue Gartengeräte und Werkzeuge bekommen. Damit werden sich ihre Arbeitsbedingungen enorm verbessern.

Im Jahr 2021 wurde ein Schulgarten angelegt, der nun vom Schulgartenclub "4K Club" und der Klasse 4 im Schulgartenunterricht beackert werden kann. Die Kinder bekommen ihre eigenen Gartengeräte, Gießkannen und Samen. Die Erträge des Schulgartens werden dann immer in die Schulküche geliefert.

Auch mit einer regelmäßigen Spende von 15€ monatlich können viele kleine Bedarfe sofort gedeckt werden wie z. Bsp. der Ankauf von Samen, Baumsetzlingen, Kuhdung, die Reparatur von Werkzeug und der schon installierten Tröpfchenbewässerung und den Diesel für die neue Generatorpumpe, die in der Trockenzeit Wasser vom Fluss auf das Feld pumpen kann. 


https://betterplace-assets.betterplace.org/uploads/project/image/000/091/844/277667/limit_600x450_image.jpg

https://betterplace-assets.betterplace.org/uploads/project/image/000/091/844/277677/limit_600x450_image.jpg

https://betterplace-assets.betterplace.org/uploads/project/image/000/091/844/277654/limit_600x450_image.jpg


Wir bedanken uns im Namen von HfW, dem Farmteam und den Kindern der MOCC-Schule in Siaya.

Mit freundlichen Grüßen

Der Vorstand 



continue reading
Contact
Kurt-Schumacher-Str. 7
53773
Hennef
Germany


Susanne Koschewski
New message
Visit our website