Tierrechte Aktiv e.V.
managed by Sylvia Münzner
About us
Our association "Tierrechte Aktiv e.V., Gnadenhof Gollachostheim" was founded in 2007 by Susanne Pfeuffer and Martin Weid.
A farm was specially bought and converted to accommodate the many different animals - including domestic, woolly and wild boars, goats, donkeys, ponies, sheep, cats, dogs, rabbits, guinea pigs, chickens and roosters - and animal welfare To enable accommodation. We finance ourselves exclusively through our own initiative, animal sponsorship and donations, 100% of which benefit our animals. Nevertheless, we are dependent on the help of generous people in order to be able to run the sanctuary on this scale. In 2011 we were awarded the Bavarian Animal Welfare Prize. A year later, Susanne Pfeuffer was also awarded the Federal Order of Merit by Federal President Gauck for her 25-year commitment to animal welfare. Our motto "Let life and animals live".
Latest project news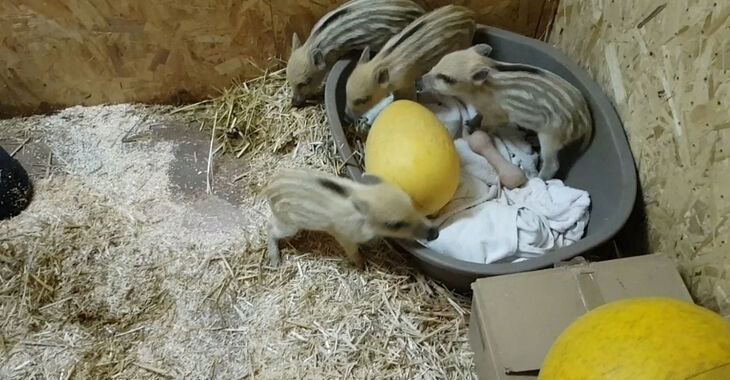 DANKE
Hallo ihr tierlieben Menschen,

hier ist wieder euer Jean-Luc vom kleinen Wildschweinquartett aus Gollachostheim - der selbsternannte Hofberichterstatter!! - nicht zu vergessen - grunz, grunz - so viel Zeit muss sein!!

DANK euch allen haben wir nun eine trockene Hütte und eine Veranda mit Überdachung!!! Unser größter Traum ist wahr geworden und dafür danken wir euch von ganzem Herzen - grunz, grunz. Wir sind darüber sooooo glücklich - juhu!!! Es ist so schön warm und trocken, wenn es draußen regnet, stürmt und schneit und wir (meine Schwestern und ich) können dann so richtig Bauch an Bauch kuscheln!!!

Auch meiner Schwester Tasha geht es gut, seitdem sie nicht im Nassen ausharren muss und das nur durch eure wunderbare Hilfe.

Wir alle würden uns natürlich sehr freuen, wenn ihr uns auch weiterhin unterstützen würdet. Unser Martin und seine Helfer haben immer Renovierungsarbeiten zu leisten und wir wissen mittlerweile, dass das alles viel Geld kostet.

Noch einmal DANKE!!! von uns allen und FROHE WEIHNACHTEN.

Bis bald
euer Jean-Luc
continue reading
Contact
Kirchplatz 4
97258
Gollhofen OT Gollachostheim
Germany


Sylvia Münzner
New message
Visit our website