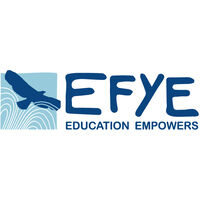 EFYE - Eagle's Fountain Youth Empowerment
managed by Maren Hildebrand
About us
It is our mission to enable disadvantaged children and young people in Kenya through educational work to build sustainable future prospects for themselves and their environment, and thus resolve inequalities. Our educational work is carried out on site by the Kenyan organization EFYE CBO under the direction of the two Kenyans Frank and Denis. As a partner organization in Germany, the non-profit association EFYE e.V. is responsible, among other things, for generating financial resources. Despite spatial separation, we work closely together, are in constant exchange and support each other in order to ensure a high quality and sustainable effectiveness of our work together. The EFYE Education Centre is at the heart of our non-profit organization, EFYE. As a free preschool and elementary school, it currently offers almost 100 children in the Mathare slum, Nairobi, a place of refuge that creates the conditions for a self-determined life and social participation with them.
Latest project news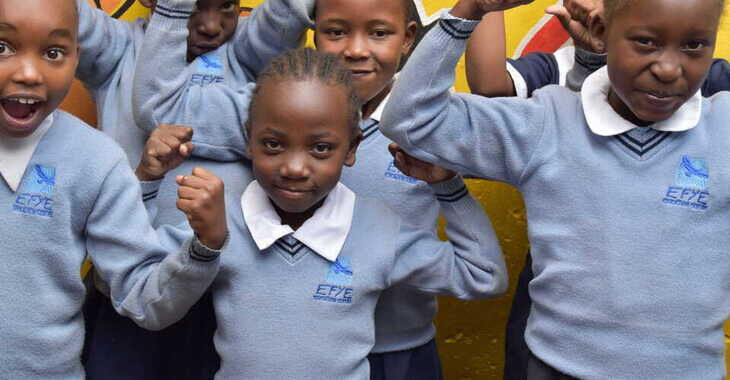 Wir haben 2.751,57 € Spendengelder erhalten
Liebe Unterstützende des EFYE e.V.,
wir möchten uns von ganzem Herzen bei Euch für Eure Spenden, die dazu beigetragen, die erhöhten Kosten für die Schulmahlzeiten am EFYE Education Centre für insgesamt sechs Monate zu decken, bedanken. 
Die Inflation und wirtschaftliche Entwicklung in Kenia sorgen weiterhin dafür, dass die Lebenshaltungskosten enorm steigen und dies treibt immer mehr Menschen in extreme Armut. Zudem hat Kenia mit Lebensmittelknappheit zu kämpfen, was nicht nur durch fehlende Importe aus der Ukraine zu erklären ist, sondern auch durch die immer extremer werdenden Wetterlagen in Form von länger anhaltenden Trockenphasen, gefolgt von heftigen Überschwemmungen. Sogar auf dem eigentlich sehr fruchtbaren ländlichen Region bei Mount Kenya, wo die Gründer der EFYE CBO, Frank und Denis, herkommen, kämpfen die Menschen in letzter Zeit mit der Knappheit. Unsere Schule bleibt von den Folgen dieser Situation auch nicht verschont: Insbesondere die Kosten für Lebensmittel sind im letzten Jahr weiter gestiegen (nach aktuellem Stand kostete 1 kg Reis 2021 noch ca. 75 KES und liegt nun bei ca. 220 KES; wobei 120 KES = ca. 1 EUR).
Aufgrund der Dringlichkeit der erhöhten Kosten für die Schulmahlzeiten haben wir uns in Abstimmung mit den kenianischen Organisationsmanagern vor Ort dazu entschieden, die Spendengelder zunächst für diesen Bedarf einzusetzen. Ursprünglich war geplant, die ersten Spendenbeträge für eine einmalige Bonuszahlung an unsere Mitarbeitenden im EFYE Education Centre zu verwenden – sobald wir weitere Spenden sammeln können, werden wir natürlich auch den geplanten Bonus für unsere Mitarbeitenden umsetzen. 
Das EFYE Education Centre ist ein wichtiger Ort für Geborgenheit, Zuflucht und Weiterentwicklung für die dort zur Schule gehenden Kinder. Wir glauben fest daran, dass Bildung die Essenz von Chancengleichheit ist und der erste Schritt zu einem menschenwürdigen Leben für alle Menschen, unabhängig von ihrem Geburtsort. Leider kostet Bildung Geld und dies ist nicht immer gerecht. Als gemeinnützige Organisation möchten wir unseren Beitrag dazu leisten, die Zukunft der Kinder fairer zu gestalten.
Wir danken Euch noch einmal herzlich für Eure Unterstützung und hoffen, dass wir in Zukunft weiterhin auf Eure Hilfe zählen können. Erzählt gerne in Eurem Netzwerk von unserer Arbeit und verteilt den Link zu unserer Website: www.efye.org.
Mit ganz herzlichen GrüßenDas gesamte Team vom EFYE e.V.
continue reading