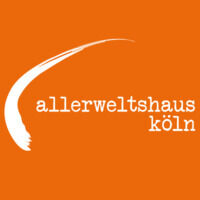 Allerweltshaus Köln e.V.
managed by J. Jendreizik
About us
Allerweltshaus (House of the World) exists since 1987. It has been working as a Cologne Ehrenfeld based non-profit organization & an independent center for intercultural education and cross cultural relations. It is a meeting point where people of different nationalities and cultural backgrounds get together, exchange ideas & celebrate.
Allerweltshaus is ideologically and politically independent. The principle of our actions is our contribution for a collaborative coexistence of people of different nationalities & social backgrounds, our contribution against the growing gap between wealth and poverty here and around the world, our contribution against the use of military power as a way for resolving conflicts and the increasingly exploitation of natural resources.
We offer open space & infrastructure: to enable solidarity & cooperation at eye level, to facilitate self-organization & self-help, to organize forms of resistance and other alternatives.
Latest project news
Wir haben 1.757,39 € Spendengelder erhalten
 Liebe Freunde und Freundinnen, liebe Menschen!

Das Allerweltshaus hat in der Geisselstrasse 3-5 ein neues Zuhause! 
Da wir für unseren alten Standort in der Körnerstrasse zum 1. November 2022 die Kündigung erhielten, hat die Stadt uns ermöglicht, in das alte  Schulgebäude einzuziehen. Danke dafür! Viele ehrenamtliche Freund*innen des Allerweltshauses haben mit angepackt, haben mit uns Teile des Hauses für unsere Zwecke  provisorisch hergerichtet. Mittlerweile laufen wir wieder auf Vollbetrieb! 
Die Geisselstrasse ist ein wunderbarer/idealer Ort für unser internationales Zentrum: der Hof, das Schulgebäude  hat eine offene einladende Ausstrahlung, wird von vielen in Anspruch genommen und gestaltet: Hier wird Diversität gelebt!  
Mit euren Spenden konnten wir die alten Leuchtstoffröhren gegen LED austauschen bzw. überhaupt einlegen. Die Deutschkurse im ersten Stock können nicht mehr durch die Decke blicken, mit eurer Hilfe haben wir einen Holzboden verlegt. Vielleicht habt ihr eine unserer Draußenaktivitäten besucht? Wir haben ein kleines Büdchen gebaut, in dem wir kochen und Getränke kalt stellen können.
Wir haben alle zusammen viel Arbeit in dieses Haus gesteckt und es gibt immer was zu tun! Wir wollen unser Engagementsangebot etwas professionalisieren, um es Interessierten etwas einfacher zu machen. Wir können immer Menschen mit Erfahrung im Umgang mit Bohrmaschinen gebrauchen.
Wenn ihr Lust verspürt uns handwerklich zu unterstützen freuen wir uns über euren Besuch!

https://betterplace-assets.betterplace.org/uploads/project/image/000/090/055/311211/limit_600x450_image.jpg

Unser Einjähriges werden wir mit der Mexiko Initiative und dem Dia De Lxs Muertxs begehen - am 28.10.23 - hiermit laden wir euch herzlich ein!
https://www.allerweltshaus.de/veranstaltungen/dia-de-los-muertos2023

Danke, dass ihr an unserer Seite steht - danke, dass ihr an uns glaubt!

Mit spätsommerlichen Grüßen aus Köln Ehrenfeld,
Jennifer Jendreizik für das Allerweltshaus
continue reading
Contact
Körnerstraße 77-79
50823
Köln
Germany


J. Jendreizik
New message
Visit our website