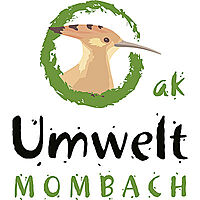 Arbeitskreis Umwelt Mombach e.V.
managed by J. Weidmann
About us
Arbeitskreis Umwelt Mombach e. V was founded in 1993. The most important objective is to care for the nature reserves, biotopes and habitats in our suburb Mainz-Mombach, in Mainz and the neighbouring areas.

Therefore, we actively maintain the biotopes, by mowing where necessary, by planting trees and creating ponds amongst other things. We work together with the relevant authorities, coordinate our activities and inform them of grievances. An major part of our work is to inform the public about important local natural resources. Through working with schools on the maintenance of biotopes we introduce pupils to the tasks and responsibilities for the conservation of nature.

We especially look after the Mainzer Sand, which is an area unique in Europe. This FFH- and EU-Bird Sanctuary is home to a lot of rare animals and plants. At the same time it is exposed to various threats, environmental and otherwise. We counteract these threats with our actions and by educating and providing information to the public.

In the river plains of the Rhine near Mainz we buy and rent abandoned farm land and transform these areas into species-rich meadows. Through the creation of ponds we provide new habitats to the amphibians living in the plains of the Rhine, for example the common and crested newt.

The meadows are also an important feeding ground for storks. In order for the storks to find enough food the meadows are mowed regularly and grazed by herds of Exmoor-Pony's which are owned by our partner Gesellschaft für Naturschutz and Ornithologie Rheinland-Pfalz.

Furthermore we take part in the maintenance of several nature reserves in and around Mainz and its neighbouring areas. We support the maintenance of flood banks in the FFH Area Laubenheimer Ried, the nature reserve Rabenkopf in Wackernheim and others. Together with several associates as well as the pupils of the Otto Schott Gymnasium we maintain the relict area of the "Kleiner Mainzer Sand" in the Gonsbachtal between the suburbs of Mainz- Mombach and Mainz-Gonsenheim.

Another project of our organisation is the protection of swallows and swifts in our town. We give information to home owners so that they can ensure during building works or reconstruction of their homes, not to destroy the nests of these birds. In cooperation with some home owners we try to create additional nesting sites.
Latest project news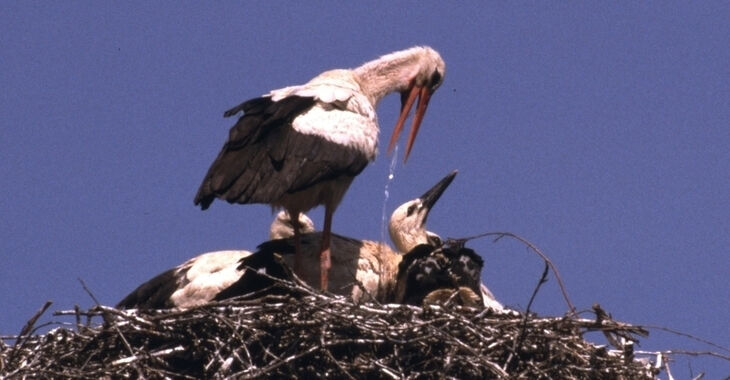 Jahresbilanz des Storchenprojekts
https://betterplace-assets.betterplace.org/uploads/project/image/000/032/923/259008/limit_600x450_image.jpg



Mittlerweile betreuen wir im Storchenprojekt eine Fläche von rund 110.000 qm (ca. 11 Hektar) im Mombacher und Budenheimer Unterfeld. Neben eigenen und gepachteten Flächen kümmern wir uns um die Grundstücke der Stadt Mainz und des NABU "Mainz und Umgebung".

Pflege der Kopfweiden

Im Rahmen seines Storchenprojekts hat der Verein im Jahr 2021 sehr viele größere und kleinere Maßnahmen durchgeführt. Bei den sechs größeren Aktionen haben viele Freiwillige die Arbeit an den Wochenenden unterstützt. Darüber hinaus war der Verein, wie auch schon in den vergangenen Jahren, beim Dreck weg-Tag der Stadt Mainz aktiv. Hier wurde in den Storchenwiesen aufgeräumt und für die Störche gefährlicher Abfall entsorgt. Auch am Rhine Cleanup hat der Arbeitskreis Umwelt teilgenommen.

Vom Wind abgebrochene Äste werden von einer Wiese geräumt

Bei insgesamt 117 Aktionen in diesem Jahr gab es zahlreiche Aufgaben zu erledigen. Unter anderen mussten die Flächen gemäht und abgeräumt und die Hecken geschnitten werden. Die Kopfweiden und Obstbäume wurden ebenfalls geschnitten und gepflegt. Nach Bauarbeiten auf einem Grundstück wurden Steine weggeräumt werden, um wieder mähen zu können: Aus den Steinen entstand eine Bruchsteinmauer. An anderer Stelle konnten wir eine Wildblumenwiese anlegen. Auch ein neues Insektenhotel konnten wir bauen.

Storch auf Nahrungssuche ganz in der Nähe der Horste am Umspannwerk Budenheim

Zum dauerhaften Schutz der Storchenwiesen und zur Erhaltung der Artenvielfalt haben wir zusammen mit dem NABU ein Konzept zur künftigen Beruhigung und Entwicklung des Mombacher Unterfeldes und des Mombacher Rheinufers entwickelt. Dieses wurde mit dem Umweltdezernat der Stadt Mainz und den Sprechern der Ortsbeiratsfraktionen unseres Stadtteils sowie dem Mombacher Ortsvorsteher abgestimmt.

https://betterplace-assets.betterplace.org/uploads/project/image/000/032/923/208862/limit_600x450_image.jpg


Eines unserer Projektziele ist der Schutz des Naturschutzgebietes "Mombacher Rheinufer". Dieses grenzt direkt an die Storchenwiesen an. Der Arbeitskreis setzt sich dafür ein, dass das Rheinufer vor unerlaubter Nutzung geschützt wird und die geltenden Regeln zum Naturschutz eingehalten werden. So sind dort etwa Lagern, Zelten und Partys verboten.

Ein besonderer Erfolg ist, dass wir die Wiesen bei den Horsten am Umspannwerk nun ganz in unsere Obhut übernehmen konnten. Zwei zentrale, ehemals gepachtete Grundstücke konnten wir dank auch Ihrer Hilfe kaufen. Das letzte anders genutzte Grundstück konnten wir pachten.
   

Zu den Daueraufgaben gehört auch außerhalb des Dreck weg-Tags immer wieder die Beseitigung von Müll sowie der Schutz der Wiesen gegen die Zerstörung durch parkende Autos.

Start vom Horst  

Auch unseren Projekten sind wir treu geblieben. Insbesondere im europaweit einzigartigen Mainzer Sand konnten wir wieder viel bewegen. Auch dort haben wir eine große Zahl von Einsätzen durchgeführt. Durch die Förderung der Stiftung Natur und Umwelt Rheinland-Pfalz können wir in kommenden Jahr auch im Mainzer Sand neue Flächen erwerben. 
 


continue reading
Contact
Obere Bogenstr. 56
55120
Mainz
Germany


J. Weidmann
New message
Visit our website