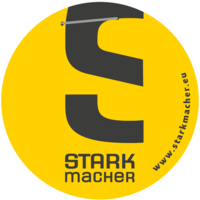 Starkmacher e.V.
managed by Starkmacher e.V.
About us
Starkmacher (est. 2006) is a non-profit, civil society organisation mainly active at grass roots level. The overall mission is to strengthen and empower citizens, particularly young people & children to react positively to the lack of orientation, frustration, absence of values and growing violence. Main areas of activities are youth work, non-formal education and intercultural learning within diverse social and ethnic settings as well as violence prevention and promotion of fundamental rights, citizenship and equality. Starkmacher has also sound experience in empowerment of youngsters with the help of creativity as well as sports & games. Over the last years, social and labour market integration of deprived youth, mainly from urban areas has become a key sector of activities. Target groups include most disadvantaged groups, such as young unemployed, school drop outs, juvenile delinquents and prison inmates.
Latest project news
Wir haben 2.570,10 € Spendengelder erhalten
Die Gelder werden dazu dienen weitere Ausbildungsangebote für geflüchtet Personen anzubieten. Besonders im Gartenbau und Kleintierzucht, als auch eine Kochausbildung. Die Auszubildenden erhalten nach abgeschlossener Ausbildung ein Starterkit mit dem sie befähigt werden ihre eigene gewinnbringende Aktivität zu starten. 
continue reading
Contact
Coblitzallee 8
68163
Mannheim
Germany


Starkmacher e.V.
New message
Visit our website