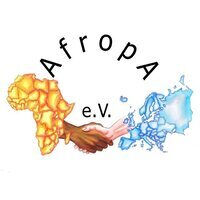 Afropa e.V.
managed by Emiliano Chaimite
About us
Afropa e.V. was founded in 2003 by Africans living in Dresden
founded inside. He wants to promote understanding between the people of the African and European continents. Until 2015 in voluntary work, by helping people to help themselves, socio-cultural, developmental and sporting activities and projects. Since 2015, the association has been continuously developing into a professional sponsor. Starting in 2015 with the P@chwork project, which established itself as a workshop for inclusion and self-organization for people with a history of flight and migration, the projects local coordination of samo.fa and migration social work in Dresden were added in 2016 and 2017. Afropa e.V. has been running the intercultural center Weltclub since 2018, in which the "Powerful Women of Color" project has been running since 2020. Projects (water projects in Uganda) are also being implemented and further expanded in diaspora development cooperation with African countries.
Contact
Königsbrücker Straße 13
01099
Dresden
Germany


Emiliano Chaimite
New message
Visit our website