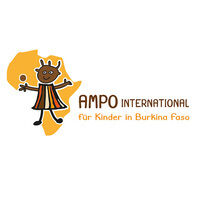 AMPO international e.V.
managed by U. Krüger
About us
More than 25 years ago Katrin Rohde decided to leave her home in Germany and set up a project to help children and young people find new perspectives in their own country.

She named her project AMPO - Association managré nooma pour la protection des orphelins. Managré nooma roughly translates from the local Moré language as: 'The good is never lost'

AMPO international e.V. takes care of fundraising and public relations in Germany. We are represented by our offices in Berlin and Plön.
Latest project news
Wir haben 97,50 € Spendengelder erhalten
Vielen Dank für Eure Unterstützung!
Insgesamt haben wir bisher 1.300 Euro gesammelt. Das sind insgesamt 26 Grundschuljahre, die Ihr finanziert habt. Obwohl wir unser Ziel nicht ganz geschafft haben, können 4 Kinder die Grundschule abschließen. Eigentlich ist es kein Geheimnis, dass Bildung wichtig, aber warum ist das eigentlich so? In Burkina Faso erfüllen die Kinder mit einer burkinischen mittleren Reife (BEPC) die Voraussetzung, um an eine weiterführende berufliche Schule zu gehen und an der Aufnahmeprüfung für den öffentlichen Dienst teilzunehmen. Allen Kindern soll ermöglicht werden, ein selbstständiges Leben führen zu können. Die Aussicht auf einen sicheren Arbeitsplatz ist in unseren Augen deshalb zentral. Der erste Schritt in diese Richtung ist jedoch die Grundschule!   
https://betterplace-assets.betterplace.org/uploads/project/image/000/090/989/284190/limit_600x450_image.jpg
Die überwiesene Spende von 97,50 € wird für die Schulgelder der Waisenkinder von AMPO eingesetzt. Ein Jahr der Grundschule kostet ca. 50 Euro, sodass mit diesem Geld die Schulgebühren für fast zwei Jahre bezahlt werden können.
Wenn Ihr mehr zum Konzept der Waisenhäuser lesen möchtet, findet Ihr auf unserer Webseite mehr Details. 
Vielen Dank, dass Ihr AMPO so sehr unterstützt und in Gedanken bei uns seid. 
https://betterplace-assets.betterplace.org/uploads/project/image/000/090/989/284191/limit_600x450_image.jpg
Ihr Team von AMPO International e.V. 
continue reading
Contact
Blücherstraße 41
10961
Berlin
Germany


U. Krüger
New message
Visit our website