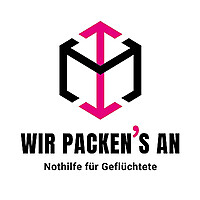 Wir packen's an e.V.
managed by Axel Grafmanns
About us
Wir packen's an ("We get it done") is a non-profit association from Berlin-Brandenburg, which brings direct help to people seeking protection in Greece, Bosnia and elsewhere. At Christmas 2019 the idea was born to send an aid truck to the Greek refugee camps. This idea became an initiative, the initiative became our association. Where an entire union of European states fail, we become active: quickly - directly - transparently.

The success story of the first 12 months: 20 huge aid trucks, 30,000 nappies, 40,000 masks, 20,000 bin bags, 20 pallets of hygiene articles, 4 tons of food, washing machines, cooking stations, 142 bicycles and a whole Corona clinic.

Our support for the refugees in the camps at Europe's borders stands and falls with your support, with your generosity. Help us to help!
Wir packen's an says thank you for every Euro donated!
Latest project news
Alle Jahre wieder
Nun sind wir schon wieder mitten drin, in der Vorweihnachtszeit. Alle Jahre wieder freuen wir uns auf unbeschwerte Tage mit unseren Liebsten, auf Besinnlichkeit, Geschenke und Traditionen. Auf Postkarten, in Weihnachtsliedern und während Ansprachen wünschen wir uns Frieden für die Welt – ein Wunsch, der im Moment so unerreichbar wie schon lange nicht mehr scheint. Denn alle Jahre wieder zwingen Kriege und andere gewaltsame Auseinandersetzungen Menschen dazu, ihre Heimat zu verlassen und sich auf eine lebensgefährliche Flucht zu begeben. Unzählige Menschen werden die vor uns liegenden Dezembertage in ukrainischen Luftschutzbunkern, in geschlossenen Lagern in Polen oder in verfallenen Häusern in Athen verbringen müssen. Diese Tatsache ist unglaublich schmerzvoll und nur schwer mit dem Ideal der friedlichen Weihnacht in Einklang zu bringen.
Umso dankbarer sind wir dafür, dass du das Leid der Menschen auf der Flucht nicht ausblendest, sondern mit uns gemeinsam hinschaust! Nur dank deiner wertvollen Unterstützung können wir dringend benötigte Nothilfe leisten.

https://betterplace-assets.betterplace.org/uploads/project/image/000/079/527/291351/limit_600x450_image.jpeg
Foto von der Grenze Ukraine-Moldau: Ben Owen-Browne

Nachdem die ersten Trucks unserer diesjährigen Wintersammelaktion ihre Ziele in Griechenland und entlang der Grenze Polen/Belarus erreicht haben, möchten wir unseren Blick nun noch einmal in die Ukraine richten. Denn während die weltweite Spendenbereitschaft zu Beginn des russischen Angriffskrieges riesig war, sind wir mittlerweile eine der letzten verbliebenen Hilfsorganisationen, die unsere polnische Partnerorganisation Folklowisto bei der Versorgung der Menschen im polnisch-ukrainischen Grenzgebiet unterstützt. Davon konnten sich unser geschäftsführender Vorstand Axel und unser Mitarbeiter Thilo bei einer Reise ins Grenzgebiet selbst überzeugen und dank einer Kooperation mit LeaveNooneBehind Nahrungsmittel im Wert von 25.000 € für Menschen in der Ukraine kaufen. Unser nächstes Ziel ist es, ein Kinderheim in Lwiw mit Dieselgeneratoren zur Stromerzeugung auszustatten.

https://betterplace-assets.betterplace.org/uploads/project/image/000/079/527/291353/limit_600x450_image.jpeg

https://betterplace-assets.betterplace.org/uploads/project/image/000/079/527/291352/limit_600x450_image.jpg
Spendenverteilung in der Ukraine

Wir freuen uns auf deine Unterstützung dabei! Denn trotz aller teils erdrückend wirkender Probleme weltweit, steht die Weihnachtszeit auch für Eines: Hoffnung – alle Jahre wieder. 

P.S.: An allen Adventssonntagen verstärkt Betterplace deine Spende an uns mit 20%! 




continue reading
Contact
Frankfurter Strasse Ausbau 24
16259
Bad Freienwalde
Germany

Axel Grafmanns
New message
Visit our website