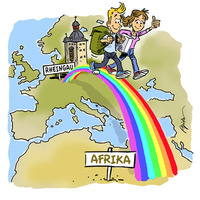 Rheingauer Jugend für Afrika e.V.
managed by N. Terfoort
About us
We set ourselves the following goals in 2014:

To give young people the chance to have a look at the diversity of cultures, to actively experience each other and to see what potential there is for all of them
Helping teens to find out for themselves what's important in life and what makes life different
Support young people in their personal development and life planning

We want to achieve this with trips to Africa (Kenya) every two years.

Cooperation in aid projects at local schools
build new benches, tables and shelves with Kenyan children and teenage students
improve the learning atmosphere of the students there and redesign classrooms or school walls
Help to help yourself
Experience a new culture and environment for young people, which is much more common on this planet than the environment in which they live
Latest project news
Wir haben 157,50 € Spendengelder erhalten
Das Spendengeld wird verwendet, um neue Schulbücher für unsere Projektschulen in Kenia zu kaufen, weil dort ein neues Curricuum gilt und die alten Bücher leider nicht mehr benutzt werden können.
continue reading