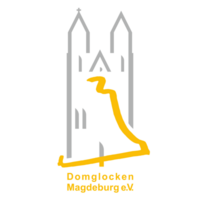 Domglocken Magdeburg e.V.
managed by A. Wegener
About us
The general restoration of the bells at Magdeburg Cathedral has been waiting to be realized for many years. But this plan shall now become reality. The current number of bells at Magdeburg Cathedral will be increased to a total of 12 bells for the cathedral. Therefore, the four existing bells will be joined by another eight new bells. Only three of the present bells are currently in use for church services. The fourth bell, bearing the name DOMINICA, kept quiet for more than 10 years and needed to be repaired first. This repair was implemented by our society in 2019! You can now take a look at the restored DOMINICA. For this as well as for another grand bell (g°), however, we first need to have a new bell cage installed in the north tower of Magdeburg Cathedral. Magdeburg Cathedral is the oldest and most important gothic cathedral in Germany. It has been completed in the Middle Ages in 1520 with its two grand towers, each measuring 100 m.
Support us in this great and important task
Latest project news
Wir haben 1.306,49 € Spendengelder erhalten
Erster Neuguss einer Großglocke für den Magdeburger Dom seit 320 Jahren
Am 2. September um 17:10 Uhr begann die Bronze für die AMEMUS in die Glockenform zu fließen. Damit wurde nach 320 Jahren erstmals wieder eine große Glocke für den Magdeburger Dom gegossen. Damals, im Jahr 1702, war das die OSANNA, die mit 9 Tonnen schwerste Glocke des Domgeläutes. Aber auch die AMEMUS ist kein Leichtgewicht, denn sie bringt stolze 6 Tonnen auf die Waage. Auch für eine so renommierte Gießerei wie die Glockengießerei Bachert ist solch ein Guss eine Herausforderung, die aber mit Bravour gemeistert wurde. Jetzt wartet der Verein und die Domgemeinde, dass die Glocke Ende Oktober in Magdeburg eintrifft.
continue reading
Contact
Domplatz 1
39104
Magdeburg
Germany

A. Wegener
New message
Visit our website