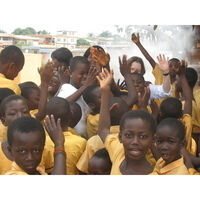 Freunde der Bohyen Primary School/Kumasi
managed by Christine M.
About us
The circle of friends of the Bohyen Primary School has developed to
help when we had got the information of a longduring emergency at the Primary School in Bohyen/Kumasi.The school had any sanitation over the last 10 years. We decided to gather money to construct new facilities. For this purpose we cooperated with the ghanaian NGO, "Nana Mprengo needy foundation", which managed the construction.At the commissioning of the toilethouse we were asked to do more for the school.Therefore we will constitute a NGO in Germany as well.
Latest project news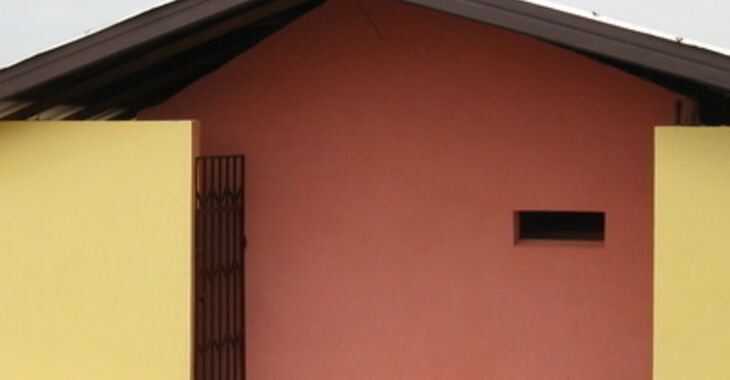 10 neue Türen eingebaut - kleiner Abschlussbericht
Liebe Freundinnen, liebe Freunde,
am 12.8. hatte ich euch geschrieben, dass mit den zuletzt eingegangenen Spenden alle 10 Türen finanziert sind. Heute habe ich die neuen Fotos aus dem Toilettenhaus, die mir gestern zugesandt wurden, unserer Fotoserie hinzugefügt .
Das erste Foto zeigt ein paar der jüngsten Schulbesucher vor dem neuen Toilettenhaus. Auf einem weiteren Foto seht ihr den mit Türen nun voll ausgestatteten Mädchentrackt (9 cubicles) . Im Jungentrackt konnte  bisher erst die eine Tür angebracht werden
Ich möchte nochmals allen Spenderinnen und Spendern ganz herzlich dafür danken, dass wir doch in so kurzer Zeit das Toilettenhaus mit 10 neuen Türen ausstatten konnten. Die Kinder, zunächst ganz besonders die Mädchen,  werden es sehr schnell als Selbstverständlichkeit erfahren, dass ihre Intimsphäre beim Besuch des Toilettenhauses geschützt ist.
Auch den Fürsprechern herzlichen Dank für eure Unterstützung.
Ich hoffe, Ihr seid zufrieden mit der Realisierung unseres Vorhabens.
Vielen Dank von hier aus auch an betterplace, das eine ganz großartige Plattform für Hilfsprojekte darstellt, absolut zuverlässig arbeitet und mich als Projektleiterin immer sehr bereitwillig beraten hat.
Abrechnung:
Spenden:149.-€ über betterplace + 236.-€ Barspenden = 385.-€
Mit diesem Betrag konnten wir, wie angesetzt, 10 Türen à 38.50€ finanzieren. Die Schwankungen des €-Kurses waren zum Glück nur kurz und wurden von uns ausgeglichen.
Wie geht es weiter?
Natürlich sammelt der Freundeskreis der Bohyen Primary School weiter Geld, um auch den Jungentrackt noch vollständig mit Toilettentüren auszustatten.
Demnächst werden wir, wie angekündigt, uns als eingetragener Verein konstituieren und damit unsere künftige Arbeit auf eine neue Grundlage stellen. Wir werden euch darüber informieren und nächsten Projekte bestimmt auch wieder bei betterplacevorstellen und um Unterstützung bitten.
Für heute grüße ich euch herzlich und dankbar für jede Form der Unterstützung
und wünsche allen noch viele sonnig-goldene Herbsttage,
hoffentlich bis bald wieder bei betterplace
Christine
continue reading