Förderverein Indienhilfe Saar e.V.
managed by S. Limbach
About us
Förderverein "Indienhilfe Saar" e.V.: We are selflessly active and gargate that all donations come directly and 100% to the benefit of the needy people and desired support projects in India. Absolute transparency by close cooperation with our partner organizations of the diocese of Marthandam, regular on-site visits and open bookkeeping. Help us to give poor people better life perspectives.

The average income of a family is often below 50 € / month. With 20 € / month you can become a sponsor for a schoolchild, a handicapped person or a family in need. Study place with accommodation / meals available with 130 € / month. A goat for 70 €, ten chickens for 30 €, a cow for 400 € donation.

Our Partern HOM, Health for One Million, needs an ambulance car (20T €)
For further information on educational and development projects, house and well construction, education / sponsorship, or livestock donations, please visit www.indienhilfe-saar.de; Email: indienhilfesaar@gmail.com.
Latest project news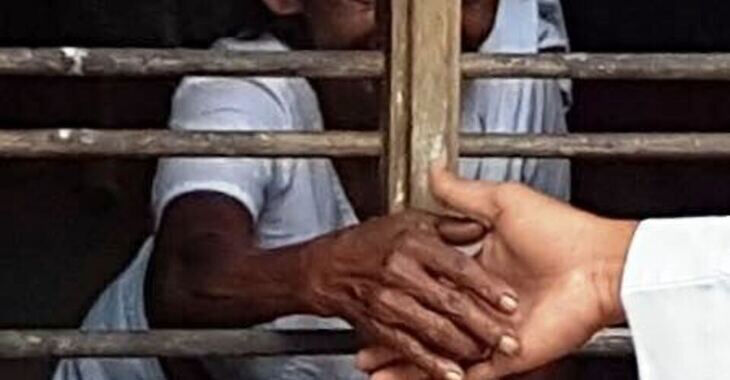 Wir haben 3.573,84 € Spendengelder erhalten
Liebe Unterstützer und Helfer,                                                                                                                   Im Frühjahr konnten wir wieder für vier Wochen in Indien alle Familien  und Kinder treffen, die wir durch Patenschaften oder mit medizinischen Notwendigkeiten unterstützen. Gleichzeitig fließen durch unseren Verein aber auch immer wieder Basis-Hilfen für Brunnenbau, Trinkwasser, sanitäre Anlagen, Ausbildungshilfen und Nutztierhaltung. Wir unterstützen 42 geistig behinderten Kinder unserer HOM-Patenschule in Kuzithurai, u.a. sollen sie jetzt von uns einen Chapati-Vollautomat bekommen. Das ist ein Brotfladen-Backautomat, der seine Erlöse über den Straßenverkauf und den Bedarf der Menschen bei Veranstaltungen erzielen soll. Der Gewinn aus diesem Projekt kommt 1:1 dem schulischen und therapeutischen Bedarf dieser Kinder zugute. Mit Hilfe von Spendengeldern ist auch unser Herzens-Projekt, die erste "ambulante Palliativ-Care" 2022 sehr gut angelaufen. Zusammen mit den beiden Krankenschwestern haben wir im Frühjahr viele bettlägerige Patienten in ihren ärmlichen Häusern besucht, ihnen Mut zugesprochen, aber auch z.B. einen Rollstuhl oder bessere medizinische Versorgung angeregt - die wir den Betroffenen dank unserer Spendeneingänge nun auch ermöglichen können.  Projekte mit Nahrungsergänzung für ältere, kranke Menschen und schwangere Frauen haben in den letzten 3 Monaten über 300 Menschen geholfen. Ganz aktuell haben wir eine Patenschaft für eine Grundschule in Anakkarai übernommen und  unterstützen rund 60 Grundschüler mit Trinkwasserbereitern, Turnmatten, Sandplätzen und einigen Spielgeräten, einem Keyboard für den Musikunterricht und 4 Computer-Arbeitsplätzen – weitere notwendige Unterstützung ist angedacht.  Ebenso helfen wir beim Aufbau einer Krankenstation in Mathar. Diese Medikamenten-Ausgabe zur wichtigen ambulanten medizinischen Grundversorgung wird 24 Stunden mit einer Krankenschwester, und wenigstens zwei Mal pro Woche mit einem Arzt/Frauenarzt besetzt sein - und schließt damit eine große Versorgungslücke in der Region.   Im Mai dieses Jahres hatten wir noch einen besonders schönen Grund, wirklich dankbar zu sein: Unser Förderverein Indienhilfe Saar e.V. wurde 5 Jahre alt - und hat in dieser Zeit schon sooo viel bewegt!Im Namen des Vorstandes danken Silvie Wendang und ich allen unseren Sponsoren und Unterstützern wirklich von ganzem Herzen für diese erfolgreiche Entwicklung - bitte stärken Sie uns auch weiterhin !
continue reading
Contact
Bahnhofstr. 31
66793
Saarwellingen
Germany

S. Limbach
New message
Visit our website