BESI & FRIENDS
managed by T. Schmelzer
About us
Besi & Friends are a group of German cyclists. We run events and tours where healthy and not so healthy athletes meet and cycle together. We have done some spectacular events in the past. Some of our adventures have made it into German TV and cinemas. We try to raise money and awareness for Multiple Sclerosis patients.
Latest project news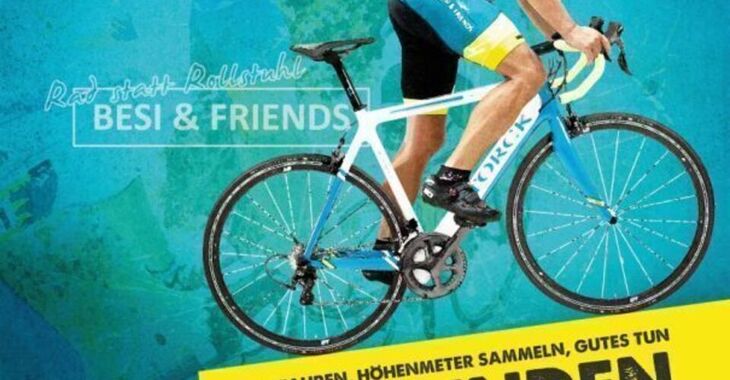 Ich habe 2.408,25 € Spendengelder erhalten
Alle hier gesammelten Spenden gehen an Besi & Friends, bzw. Rad statt Rollstuhl. Spendentechnisch ist das eine Unterabteilung der Sportfreunde Rodgau e.V. Besi & Friends veranstaltet teils spektakulaere Aktionen um Spenden zu sammeln. Die dort gesammelten Gelder werden an die Nathalie Todenhoefer Stiftung weitergeleitet.

Wir haben in Deutschland mit der "Deutschen Multiple Sklerose Gesellschaft" eine großartige Hilfsorganisation. Sie kümmert sich in beispielhafter Weise um Aufklärung, unterstützt die Forschung und hilft vielen Betroffenen materiell und seelisch.
Die Nathalie-Todenhöfer-Stiftung will in partnerschaftlicher Abstimmung mit der "Deutschen Multiple Sklerose Gesellschaft" denen helfen, denen es besonders schlecht geht und denen weder der Staat noch andere karitative Organisationen helfen können. Und wir wollen verstärkt Bewusstsein schaffen für diese noch immer unheilbare Krankheit.
Hier eine Liste an Projekten, die die NTS unterstuetzt:
https://www.nathalie-todenhoefer-stiftung.de/wem-wir-helfen

Ich moechte betonen, dass Besi & Friends sich nicht in die Verwendung der Gelder bei der NTS einmischt. Die NTS geniesst unser vollstes Vertrauen und wir wollen etwaige Interessenskonflikte vermeiden. Mehrere Mitglieder bei Besi & Friends haben selbst MS. 
continue reading
Contact
Mühlstrasse 98
63110
Rodgau
Germany


T. Schmelzer
New message
Visit our website