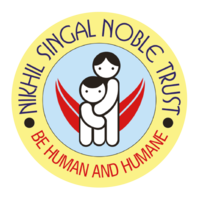 Nikhil Singal Noble Trust
managed by Arvinder K.
About us
Nikhil Singal Noble Trust is an NGO registered as per Indian law along with Foreign Contribution Regulation Act-2010. Trust is helping needy & underprivileged in the field of education and medical care. In education we support students who have caliber to study but due to financial constraint they are not able to do so. These students are mostly from labor class families, house maids, vendors etc. As their monthly income is less than 30 Euros and have 4-5 members of the family to feed, so they are left with no option to spend on education. Also there are many families with single earning hand and if that person is disabled or is expired, in such situations the first cost cutting done is education of children. We support all such cases wherein due to crisis they avoid education but children have caliber to study. So far we have adopted approx 600 such students at school level and around 20 for higher education.

There are endless such cases wherein support is required but due to lack of funds we are not able to support many of them.

This is a fervent appeal to all the privileged to provide financial assistance for this noble mission to cater sustenance to the deplorable mankind.
Contact
SCO 15, Second Floor, Nr. Nehru Sidhant Kendra, Pakhowal Road
141001
Ludhiana
India


Arvinder K.
New message
Visit our website