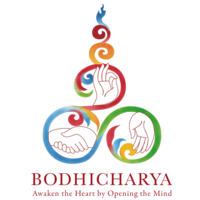 Bodhicharya Deutschland e.V.
managed by Christiane U.
About us
The aim of Bodhicharya Deutschland e.V. encompasses study and practice of Buddhist teachings in order to cultivate mental peace and stability, promotion of beneficient and charitable purposes, and fostering intercultural and interreligious dialogue.

Bodhicharya Center in the Berlin borough of Friedrichshain strives to be open and friendly, a place for tranquility, meditation, and social encounters, offering a varied program of courses, lectures, and social projects to engage in. All of Bodhicharya's activities are based on the principles of "Helping, Healing, and Harmony" and depend on the collective effort of many volunteers.

Bodhicharya's vision is to make Tibetan philosophy and culture accessible to western people and to establish a Center for Peace and Understanding in Berlin.

-

Bodhicharya Deutschlanf e.V. (Bodhicharya Germany), successor to the center Theksum Tashi Chöling, was founded in 2001 and is recognized as a charitable organization. Bodhicharya means "enlightened activity". The name is intended to encourage people to base their actions on compassion and wisdom. This motivation is symbolized by the emblem of the gestures of three hands united by ornamental lines. It was created by the Tibetan artist Salga.

Bodhicharya Deutschland e.V. and Bodhicharya International are under the spiritual
guidance of H.E. Ringu Tulku Rinpoche and follow the non-sectarian approach of the "Rime" movement. The Bodhicharya Berlin Centre is under the auspices of H.H. the 17th Karmapa who has visited the centre in June 2014.

-

Bodhicharya Deutschland focusses on four objectives :

1. STUDY AND PRACTICE of the Buddhist teachings in order to cultivate mental peace and inner qualities such as concentration, compassion, and wisdom.

2. SOCIAL ACTIVITIES serving the benefit of others while being an exercise of generosity and ethics. There is an outpatient hospice service which also provides training in end-of-life care, and a wide range of offers to the public, such as lectures on related subjects, special training for those dealing with dementia, and courses and support for prison-inmates and ex-convicts. A youth program organizes on-site international summer work camps of the Service Civil International (SCI).

3. INTERRELIGIOUS DIALOGUE
Bodhicharya stages events of interreligious dialogue, participates in the "Berlin Dialogue of the Religions" initiated by the Berlin Senate, and accepts invitations to interreligious dialogue to promote harmony and understanding among the religions.

4. BUDDHISM, ENVIRONMENT AND ANIMAL RIGHTS.
The Buddha pointed to the delicate balance between humankind and nature. Active
environmental protection is an important part of our self-conception. The environmentalist organization NABU has been accompanying Bodhicharya for several years with regard to urban climate issues and is recording the results in a photo documentation. In 2010, Bodhicharya, as one of only five projects nationwide, was selected for the research program "Urban Strategies for Climate Change".

THE BODHICHARYA CENTRE BERLIN
is operated mainly by unpaid volunteers. Nearly the entire program – with the exception of guest events and "Yoga for All" – is offered on the basis of the Dana principle, voluntary generosity.
Latest project news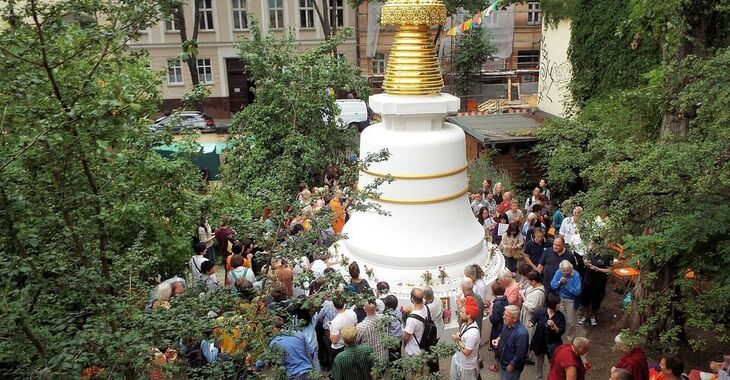 Wir haben 126,17 € Spendengelder erhalten
Einen herzlichen Dank an alle Spender für das Stupaprojekt.   Wir haben den Stupa neu gestrichen und eine Terrasse für die vielen Besucher gebaut, die in Ruhe an diesem Ort der Stille sitzen wollen. Viele Ehrenamtliche beteiligen sich an der Gartenpflege auf dem Grundstück um den Stupa herum, dafür haben wir Pflanzen gekauft.
continue reading
Contact
Kinzigstraße 25-29
10247
Berlin
Germany

Christiane U.
New message
Visit our website