F.I.L.M.S.
managed by V. Ndoumbe
About us
The cultural association F.I.L.M.S. - Forum de l'Image, de la Lumière, du Mouvement et du Son - founded in 2003 is well into her seventh year of work.

Besides a wide professional experience in cultural TV production we have an office in Douala (suburb Bonaberi) and own a plot of 2500 m² in the village Bonendale (near Douala) on the banks of the river Wouri where other artists and cultural activists live and work. There we hope to create our training center CADR'A F.I.L.M.S.

The law of liberalization in social communication in Cameroon back in 1990 finally opened officially another era. However, up to now the civil society has no significant resources, no equipment to break the monopoly of state propaganda. Therefore we are seeking partnerships worldwide.

Our goal is to advance a communicative and esthetically innovative approach, which will aid effectively in breaking ethnic barriers and convey an image of strong citizenship.

In the context of only slowly eroding state communication monopoly and state propaganda it is clear that the new broadcasters (channels) are unlikely to have producers at their disposal who are skilled in their profession and have sufficient experience to develop high quality productions in a rapidly expanding market.
Latest project news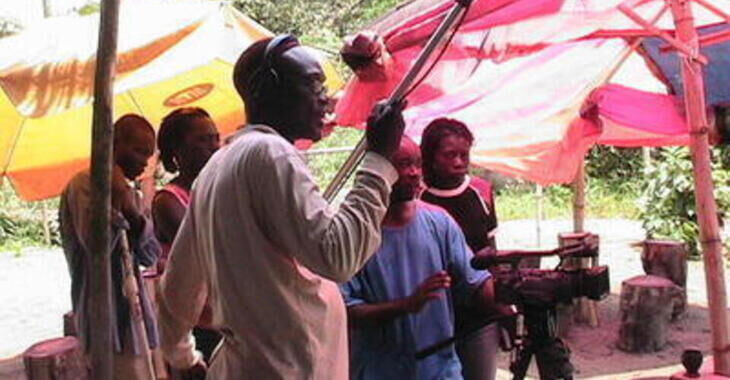 No doubt that it is a great victory!
Dear all of you,
How grateful we are, to each and everyone of you, who took a bit of time to read, understand and also appreciate this project of ours.
For us over here, in regards to this socio-historical context where dreams are often chattered and rarely turn true, where praises and trophies rarely go to the most hardworking, where almost all competitions are tricked, no doubt that it is a great victory!
It is well-known that money can afford everything, however, we assure you that what we've obtained, due to the trust you given us, will be multiplied in thousands and used efficiently for the project.
The next sequence of our action coming in June, July and August 2009 , will particularly be focused on children of ages between 6 and 13 years, for whom we shall build up a "workshop" project lasting a couple of weeks.
It's main objective being to render them able to select three traditional tales, recompose them for TV broadcasting and to finally play them, during which they will also acquire an initiation to audiovisual language and acting.
To express our amazement and gratefulness with regard to your encouragement and trust, we will soon share some pictures with you concerning the acting and shooting training courses.
Vincent Ndoumbe, promoter
continue reading
Contact
Quarter Bonaberi
0000
Douala
Cameroon


V. Ndoumbe
New message
Visit our website