PEN PAPER PEACE e.V.
managed by Milena Jung
About us
PEN PAPER PEACE is dedicated to education. Through pen and paper we work to improve the living conditions of youth who live in poverty. We believe education creates opportunities, fosters empowerment, and is required to take control of building a future for oneself.
After traveling to Haiti in 2008, the actress Alissa Jung resolved to advocate for the children and young people in Port-au-Prince, and in collaboration with nph Germany (Nuestros Pequeños Hermanos) – an international Non-Governmental Organization active in Haiti for more than 25 years – initiated the project SCHOOLS FOR HAITI. Following the earthquake that devastated Haiti in 2010, she alongside dedicated friends, developed the project SCHOOLS FOR HAITI into a full nonprofit organization, PEN PAPER PEACE in 2011.

Currently, Pen Paper Peace supports two schools in the vastly impoverished neighborhood of Wharf Jeremie in Port-au-Prince, the Haitian capital. More than 600 children and youth receive free of cost, access to schooling including: learning to read, write, and count, and training in the country's official language, French.

PEN PAPER PEACE also aims to raise awareness of social responsibility, and promotes the active involvement of young people in Germany. The project SCHOOLS FOR HAITI aims further to engage children and teenagers in Germany in the lives of Haiti's children. By taking part in a school partnership and by organizing fundraisers, young German people learn methods to help students in one of the poorest countries in the world. Doing such encourages German youth to reflect on their own privileged position in the globalized world, and to develop skills that can be used to foster democratic participation in local and global communities.
Latest project news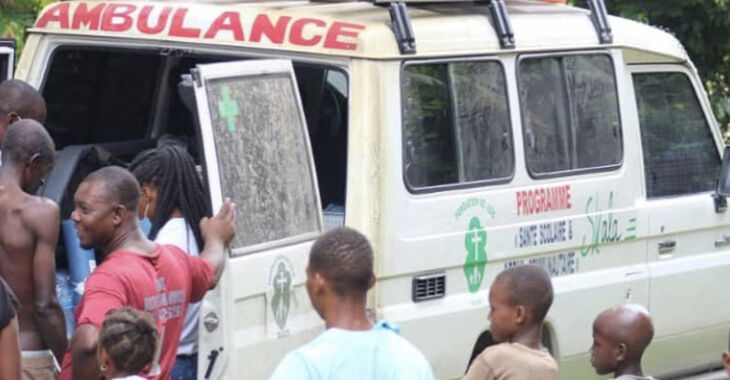 Wir haben 284,84 € Spendengelder erhalten
Hallo!
Wir von PEN PAPER PEACE möchten die Gelegenheit nutzen, um uns ganz herzlich zu bedanken! Ohne deine Unterstützung wäre wichtige Notfallunterstützung nach dem Erdeben nicht möglich gewesen.  
Nothilfe nach dem Erdbeben 2021 war ein schweres Jahr für Haiti. Ein Erdbeben der Stärke 7,2 im Südwesten des Landes trat Haiti im August sehr schwer. Deine Spende wurde an die Fondation St. Luc weitergeleitet. Unsere haitianische Partnerorganisation begann sofort nach der Katastrophe mit der Sicherstellung der dringend notwendigen medizinischen Versorgung. Zudem konnte dank der Spendengelder auch nicht-medizinische Unterstützung geleistet werden, wie zum Beispiel mit der Bereitstellung von Baumaterialien für Übergangsunterkünfte. 
Leider sind noch immer zehntausende Menschen obdachlos und nicht einmal mit dem Nötigsten versorgt. Aktuell ist die Lage in Haiti sehr unübersichtlich und täglich von großer Gewalt geprägt, die sich auch auf die Schulen, die wir vor Ort unterstützen, auswirkt. Daher freuen wir uns über deine tatkräftige Mithilfe! 
Gerne möchte wir dich auch einladen, uns in den sozialen Medien zu folgen. Wir sind auf Instagram und Facebook erreichbar, und du erhältst exklusive Einblicke in unsere Arbeit. 
Danke, dass du unser Projekt unterstützt! Wir wünschen dir ein paar ruhige und gemütliche Stunden im Dezember und hoffen, dich im nächsten Jahr wiederzusehen.
Herzliche Grüße Dein Team von PEN PAPER PEACE 
continue reading
Contact
c/o betahaus, Harzer Str. 39
12059
Berlin
Germany


Milena Jung
New message
Visit our website