Village Scribe Association
managed by A. Wertlen
About us
Village Scribe Association
The Village Scribe Association (VSA) is a local, non-governmental organisation (NGO) in Grahamstown, South Africa, that works with underprivileged public schools to improve computer literacy amongst students. In 2010, we developed a social eLearning platform called awarenet, especially designed to meet the school's and learner's needs in the Joza Township in Grahamstown.
The organisation was born out of Anna and Ron Wertlen's idea to create opportunities and jobs for the local population. The VSA has gradually emerged through the doings of many of its stakeholders and trustees, taking part in research, prototype building, governmental and international projects. We are convinced that education is the key to progress, change and employment. Investment in equal education is essential to stabilise the political and economical situation of the country. The vast majority of learners leaving school in South Africa stays unemployed due to poor education. Although many schools have computer facilities, they often stay unused for various reasons, are not connected to the Internet and teachers are not trained to work on projects with their students which might involve online research and exchange. Also, most of these children do not have a computer or Internet at home since they are living in the surrounding township. We believe that the ability to use computers and the Internet as well as good reading and writing skills are essential for success after school. Young people with such abilities have a better chance in life. Our vision is a more equal society in which individuals feel that their contribution has value and that their opinions matter. We want to empower our learners and their communities by making technology available to them and by showing them that their actions make a difference.

awarenet
awarenet is an eLearning platform and social media tool that offers our learners a personal networking space, tools for blogging, online discussions and project work. They learn how to present themselves online, how to connect and communicate, how to upload pictures, create slide shows and videos. It is a secured space of collaboration and communication between the learners and their teachers.
Our community coordinators see their classes on a weekly basis to work with them on various projects about health, music, sports, science, history and social services. Their main activity is the engagement in awarenet projects, which combines online and offline work. The online projects are always combined with offline activities like participating in sport events, organising public concerts, social engagements and the writing of newspaper articles to apply what we have worked on with the students and to make the programme sustainable. Our coordinators further offer to install awarenet servers in existing computer labs and give introductory workshops for teachers and show them how to integrate awarenet into their day-to-day work and teaching. The platform is developed in such a way that remote schools without internet or with interrupted internet access can use it as well as it also functions when offline. awarenet is an open-source programme and can be integrated at any school and after school training programme. Since there are no costs involved for schools, awarenet offers many opportunities for learners and teachers and well as partnering NGOs in the educational sector.

Joza Youth Hub (JYH)
Apart from the schools that we visit on a weekly basis, we invite learners to join our awarenet training sessions at the Joza Youth Hub, a community centre in the heart of the Joza Township in Grahamstown. We are one of many local NGOs in the educational sector, that are based and reach out from here. It is is wonderful place for teaching, hands-on experiences and collaborations. Other NGOs focus on music, journalism, reading and much more.
In the afternoon, the building is buzzing with learners, who come here to participate in our awarenet programme in the communal computer lab or work with the other NGOs. The children love to spend their afternoons at the JYH, being surrounded by friends and to be creative. The Hub offers them an alternative to spending the afternoon in the streets.

Schools and Learners
There are currently about seven schools involved in the awarenet programme and we usually work in small groups of maximum 14 learners which makes it easier for us to respond to the learner's needs and problems during the training. A training session takes between 60 and 90 minutes depending on the current main project. Young learners all around the world embrace new technologies and are open to new ways of learning. That is why we are currently working on connecting them to German learners in Saxony so that they can collaborate on projects. Our aim is to harness their enthusiasm and turn it into knowledge and cultural exchange. The VSA also places great value on including the teachers and we are trying to encourage them to use awarenet during their lessons as well. This year, our teacher training will be SETA certified and an awarenet curriculum will be co-developed with the Technical University of Dresden.
In the past, we were awarded the Judges Award of the Microsoft Innovative Teacher Awards 2012 and the VSA reached the final round of the Impumelelo Social Innovation Awards in 2012 as well.

Volunteering Programme and Interns
Since we are a local NGO with a small budget, we only have two full-time community coordinators at the moment. To cope with the growing workload, we became a partner in the German weltwärts-programme which is initiated and funded by the German Ministry for Economic Cooperation and Development. Each year, two German volunteers are chosen by the South African German Network (SAGE Net), a non-profit organisation that arranges the exchange. The volunteers stay with us for one year, assists our coordinator, train learners and eventually develop their own projects. The German volunteers as well as the South African learners enjoy meeting young people from abroad and learn a lot from each other due to this collaboration and exchange. Next to the two volunteers, we currently employ an intern, who was a former participant in our awarenet-programme at Mary Waters Highschool and is responsible for our computer lab in the Joza Youth Hub. Each year, we are also part of the Rhodes Community Engagement programme where local students assist our awarenet lessons and work with us in the Joza Youth Hub.
As only 75% of the costs for the volunteering programme are funded by the German Ministry for Economic Cooperation and Development, the rest needs to be covered by the VSA .
This is a major financial burden for us which is why we rely on both financial and commodity contributions. Donating and spreading the word helps our organisation to carry on with the international cooperation and most important to make it possible for us to continue our work with the South African youth.
Latest project news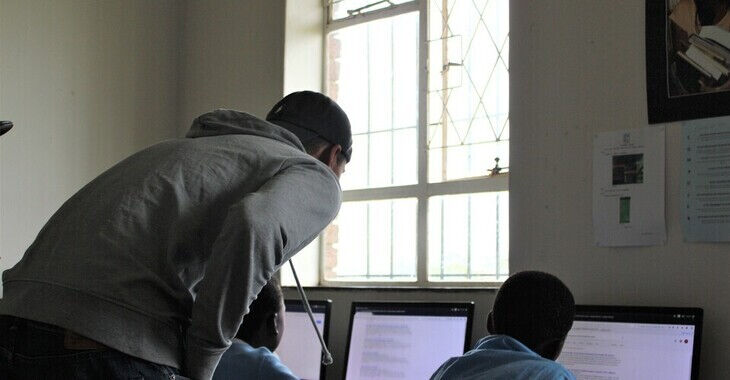 We received a payout of €58.50
We are happy to announce that the volunteer exchange programme with the weltwärts programme from Germany was revived after the covid crises followed by some difficulties to receive visa for volunteers. This year, the placement organisation is VIA e.V. since SAGE Net. had to take a year's break to recover from the crises. We are very much looking forward to welcome the volunteers, soon!
continue reading
Contact
Cnr Ncame and Sani St
6139
Grahamstown
South Africa


A. Wertlen
New message
Visit our website