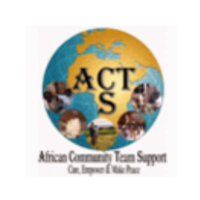 African Community Team Support
managed by N. Muwereza
About us
African Community Teams Support (ACTS) is a charity organization registered as a company limited by guarantee without share capital in Uganda. We defend, rehabilitate and empower victims of war, violence, marginalization and exploitation, help them make peace and live harmoniously through formation of community networks and teams. We strive to improve the general well-being of communities and promote peaceful co-existence of individuals in marginalized communities. We have been victims of marginalization/social evils and led difficult lives (orphaned, displaced, bartered, cheated, fostered and poverty-stricken), but survived through hard child labor or otherwise. Our experiences could not allow us to sit back, let alone watch others go through the same when opportunities to support them in some way exist. We work by mobilizing innovative knowledgeable individuals in teams to advance their development and of their communities.

We understand that the concern for victims of violence, marginalization and exploitation (their rehabilitation and restoration as well as their rights and welfare) is not simply a matter of compassion. It is a duty that calls on every human being's inner door, irrespective of race, nationality, sexual orientation or religion. Yet, most efforts towards this duty in many countries and communities seem short of a durable solution. In Uganda, the judicial system punishes offenders and the health institutions treat physical and medical effects on victims. Likewise, the NGOs advocate for and psycho-socially rehabilitate them. However, the causes of most injustices like unfair social cultural attitudes and low socioeconomic statuses of victims are not addressed. Complicated and intertwined by corruption and bureaucracy, these institutions leave victims as vulnerable as before and at the mercy of violence perpetrators whose impunity is guaranteed by their economic power.

Nevertheless, it is conspicuous that victims have potentials to change their own social and economic destinies and statuses if organized to use any existing opportunities. On this premise and the fact that communities will always need some kind of services, especially those that are partially provided or not at all provided by the state/government; and that individuals (especially in teams) can develop their own communities, ACTS conceptualizes a holistic approach to social injustice and victimology in Uganda. Aiming at not only rehabilitating, but also uniting and empowering victims, ACTS seeks to bridge the gap that exists due to efforts that tackle effects at the expense of causes of violence. ACTS envisions the use of existing opportunities to transform victims' helplessness within their own communities; to rehabilitate and empower them and turn them into service providers, business partners and indirectly paid by communities themselves. In this way, ACTS gives a psychosocial vaccine against injustices and victims' vulnerability through peaceful changes in social economic power relations that indirectly incapacitate perpetrators.
Contact
Kolonyi Close
Plot 5
Mbale
Uganda


N. Muwereza
New message
Visit our website