157 children equipped for school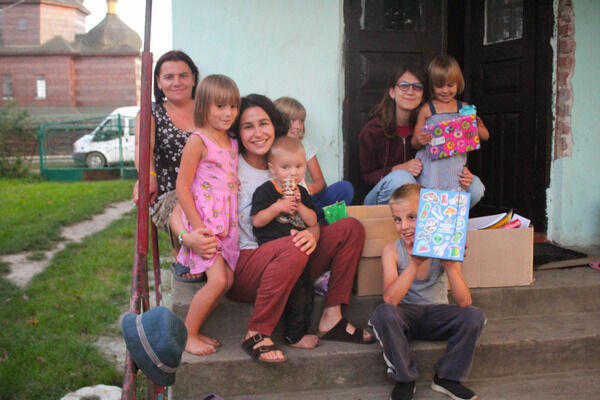 We make sure that the most vulnerable children have the school supplies they need. 157 children had their needs assessed and were supplied with stationery, school bags and shoes so they are off to a good start. We are showing children that their education, their future, is important.

Our Guardian Angel programme supports children's development, offering mentoring and tutoring, as well as the supplies needed to study. This year, in addition to children in care or low-income families, we have supplied 75 children who lost their homes in war.

Coordinator Natalya Krushelnitska explains:

"This year is very difficult for Ukraine, and this affects children's education. I am very happy that Care in Action supports vulnerable families, children, and young people to have the opportunity to learn and feel supported and equal with others. With our support, we show that education is important, that, despite all the current events, it is important to plan for children's future and support their right to education."

Who was helped?

Some of the children usually live in state care homes, so come from families who have social or economic limitations, such as children who are in the care of an elderly grandmother. We helped:


25 children from state care, in foster families or with relatives
75 children from displaced families
19 children from mentoring and sponsorship programmes
38 children from families in crisis who are from in the Lviv region
Many of these children are from families in crisis, due to poverty or war. There are single mothers, families with many children, parents who have temporarily lost jobs or homes, or do not have enough finances to properly prepare their children for school.
"It is financially difficult at the beginning of the school year, for me as a single mother with many children. Thank you for not forgetting and helping." – Olga (from a village in Lviv Region)

What did the children receive?

3,600 Euro of supplies (average of 22.80 Euro per child)
Stationery: notebooks, pencil cases, pens, pencils, paints and other age-appropriate supplies
51 school bags
12 families received assistance to buy shoes or clothes for school, including children who usually live in care homes
"Many thanks to Care in Action who helps children in such a difficult time. We really appreciate it. I'm glad that the children have the opportunity for education." – Yana (moved to Lviv due to war)
"Thank you very much for the school supplies. My son is happy to go to a new school with a nice backpack. He promised to bring only good grades." - Iryna (moved to Lviv due to war)



Natalya Krushelnitska delivers school supplies, and shows children that their education is important.
Every donation really does make a difference, and helps to protect the most vulnerable children so they can grow up to be self-sufficient.