Bethel Evangelistic And Rehabilitation Centre
wird verwaltet von bethelindia
Über uns
Dear Friends,

Bethel Evangelistic And Rehabilitation Centre is an Indian, Christian, national NGO; "Trust Worthy", tax-exempted and accountability Oriented.
Bethel is situated in Elathagiri rural village, in Krishnagiri District of Tamilnadu, in South India.

Bethel's mandate is serve and develop, the suffering, poorest of the poor, very much neglected in the community, the Orphans, the destitute, the aged and the " less privileged in life ", and develop them holistic that every individual; may have an opportunity to live with dignity and self reliant.

Bethel is over 18 years old and we are totally dependent upon God and men and women who have a compassionate heart for the suffering; to provide education, vocational training, medical care, cloths, tools, shelter and other emergency relief for the well being of the needy people.
1. Bethel is running an orphanage with 20 kids since the year 2000.
It takes 30, Euro as an 'over all' expense to keep kid in Bethel
Orphanage. We already have some German friends helping with
these 20 kids. Bethel is pressed hard to take in more kids. We
can if you support.
2. The German friends provided funds for 5 sewing machines. We need
some one to give 5 more sewing machines at a cost of 1000, Euro
and teacher's salary (65, Euro/per month) and training tools and
costs for 12 months 500,Euro.
3. Bethel also is in need of help to complete the 2nd phase of the new
dining hall. For this we need 2000 Euro.
I am looking forward to hear from you to-day. Some needs are very urgent. Please! extend your help and support.
Rev.Dass.T
Director
Letzte Projektneuigkeit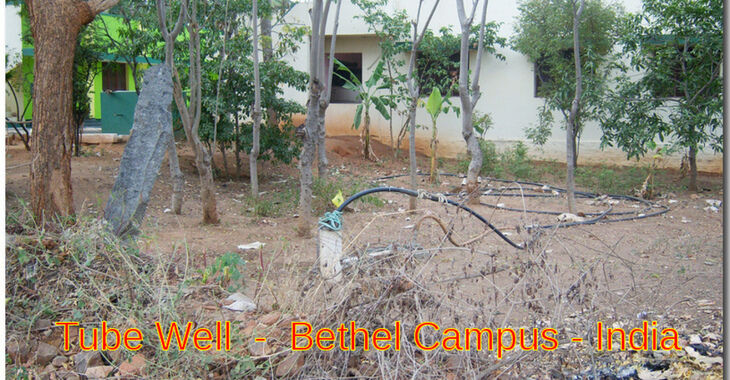 We very URGENTLY need Your Help
Bethel Evangelistic And Rehabilitation Centre is a Small Indian Christian National NGO. Our financial Policy is "FAITH" PRAYER and Trust in the PROMISES OF THE LIVING GOD. Even here, only GOD CAN  raise donors for us.

By God's grace, we hit 2.5 inches of water at 950 feet deep.

1. Drilling and sinking tube well  is done.

2. We purchased 900 feet PVC pipes, wire, rope, and 6.H.P, "submersible jet motor' and 3 Phase Electricity. And now we have water.

But we have ended up in "Debt and Loan to the tune of INR. 200000/-. And things did not work out the way we expected. We are in great trouble.

Kindly donate now to this very urgent cause.

Director. Rev. Arvind

weiterlesen
Kontakt
Bethel Campus
635108
Elathagiri-Post, Krishnagiri-Dist
Indien


bethelindia
Nachricht schreiben
Kontaktiere uns über unsere Webseite