Vorbachmühle Weikersheim e.V.
wird verwaltet von H. Hartung
Über uns
Der Verein Vorbachmühle (www.vorbachmuehle.de) ist 1988 entstanden, hat gegenwärtig 55 Mitglieder und einen Vorstand, bestehend aus 6 Mitgliedern.
Der Verein hat sich die Aufgabe gestellt, das Verständnis und die Hilfsbereitschaft auf dem Gebiet der Entwicklungszusammenarbeit und der weltweiten ökumenischen Zusammenarbeit selbstlos zu fördern. Zu diesem Zweck unterstützt der Verein Projekte der Entwicklungszusammenarbeit, vorwiegend in den Bereichen Wasserversorgung, Erneuerbare Energien und berufliche Aus- und Fortbildung.
Der Verein hat insbesondere durch seinen Vorsitzenden Hans Hartung Zugang zu der internationalen entwicklungspolitischen Diskussion, vor allem in den Sektoren ländliche Entwicklung. Herr Hartung ist assoziierter Berater bei FAKT gGmbH Stuttgart und anerkannter Fachmann in der Entwicklungszusammenarbeit. Er berät und evaluiert Projekte sowohl kirchlicher Organisationen der Entwicklungszusammenarbeit (Brot für die Welt, Misereor) als auch staatlicher und internationaler Organisationen wie EU, GIZ, WHO, FAO und andere UN-Organisationen.
Letzte Projektneuigkeit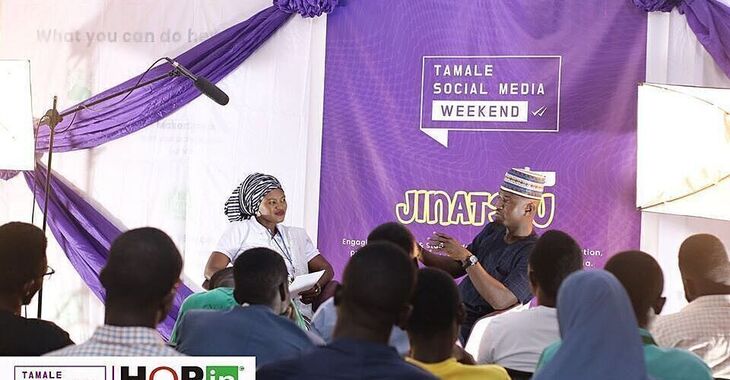 HOPin Academy berichtet über erste Erfolge mit dem IoT Lab.
REPORT ON TOOLS FOR INTERNET OF THINGS (IoT) LAB BACKGROUND In a very digitalised world, it is very important for young businesses and individuals to adopt the use of Internet of Things (IoT) in their operations and daily activities. In a world dominated by digital technology, the IoT plays a prominent role in our lives. It has created an environment that links many systems to give smart performances in every task. IoT is a significant frontier that can improve almost all activities in our lives. This particular project was aimed at facilitating the use of IoT by young entrepreneurs through providing them with IoT lab equipment and also provide them with the requisite skills on how to use and manage these tools. This is meant to help them simulate and test their products or solutions. Data collection via IoT-enabled smart labs could eliminate human error in research and development. By implementing IoT into the product development and testing process, experiments are executed easier, data is documented more accurately and research is more accessible.  For many entrepreneurs in the Northern Region, IoT sounds like a term that only relates to programmers or technology-focused businesses. In reality, the IoT affects all industries and can actually help entrepreneurs improve their business's efficiency, customer relationships, and productivity. Therefore, the lab equipment and tools are meant to be used by young entrepreneurs who also received training on how to use these tools. The project was held on the 4th of May 2020 in Tamale, Northern Region of Ghana. The project was targeted at young entrepreneurs and innovators, mainly startups and Small and Medium Enterprises (SMEs).
IMPACT OF THE PROJECT The project successfully engaged 90 Young entrepreneurs and innovators in two cohort from Tamale who are operating in different sectors of the region's entrepreneurship ecosystem. These entrepreneurs were engaged in the expectations of the project and provide an understanding of the interventions to be given to them and guidelines on how they can efficiently use the IoT tools. The lad is now open for all innovators in the HOPin Academy center for all young people and innovators.   There was also a pre-engagement with some key stakeholders on the kind of IoT tools best needed by these entrepreneurs. There was also a successful engagement with the target group on the interventions they need regarding the IoT tools. These engagements greatly influenced the decisions on the kind of tools provided.  Some IoT tools were provided and the necessary training on  those tools were conducted. The following are some of the tools that were provided;
●      Full-stack Arduino mega kits
●      37 sensor kit modules (GPRS, GSM, GPS,)
●      Resistor pack
●      Capacitors
●      Transistors
●      Arduino UNO kits
●      Full-stack WIFI Modules
All the above tools were provided and made available to the young entrepreneurs engaged in this project. These tools were provided based on the pre-engagements that were held and other needs assessments that were made on these young entrepreneurs. Aside from the project's main objective of providing IoT tools, participants were able to build strong and Healthy working relationships and collaboration among themselves. As young entrepreneurs, building business relations and networking is an important tool to succeed in the ecosystem. Through the engagement and training process, HOPin Academy also developed a strong relationship with these young entrepreneurs and is ready to provide further assistance. 
CONCLUSION Overall, the target group for the project was met, the intended impact was made and all activities were successfully concluded under this project. All the beneficiary entrepreneurs expressed satisfaction towards the project and were happy to have been part of it. They pledged to make judicious use of the equipment and to continue collaborating among themselves.  All the IoT tools needed for a lab were provided and the project can be concluded to be a success. Considering the impact made by this project, it is recommended to be carried out under larger scope with an expanded target group. This will help expand the reach of the importance of IoT to other SMEs within the Entrepreneurship Ecosystem in the Northern Region of Ghana. 


Anmerkung Hans Hartung: die später eingegangenen Spenden wurden für die Erweiterung des Labs verwendet! 
weiterlesen
Kontakt
Kanalstr. 23
97990
Weikersheim
Deutschland


H. Hartung
Nachricht schreiben
Kontaktiere uns über unsere Webseite