AGAPY Ministry Pakistan
wird verwaltet von Adnan G.
Über uns
AGAPY Ministry established 7 August, 2013. We started first free computer education with 4 students on 7 August. We started our mission of free computer education for poor christian students. It was looking very hard for us that who we can stand this noble work without any support and finance resources. But we did start in the lovely name of Jesus. And Jesus did blessed us with self support and resources.

Earlier Days:
We did start from this Green Town Lab with some students and less lab resources. We started with 2-3 laptops for 3-5 students. It was show that very difficult but now we have believe that God can do every thing for us. Just we need to have faith with all our heart, mind and strength.

After One Year:
After a one year we did start one more new lab in Yohanabad. And we did move our labs another areas or towns. In this stage, we are running computer lab for two students groups of Green town and Yohanabad.

Today:
Today we have started one more lab in Jalo Town. And now God has blessed us with screen and projector. And we are running 3 labs for high school and college students. Today with God blessing we have 6-7 laptops with 2-3 hd computers. And now we are teaching of 20-25 students in these three labs of different areas. And recently, now our one partner support us with big computer table with 10 chairs. It is much encouraging thing for us.

Future Mission:
For future we just praying to God that provide us best resources for the betterment of students and children in education. Still we are working in computer education department. We want to stand a computer center with capacity of 50-150 students in this Year. We want to established free computer education center in every Christian Town or Area for students. We want to grow our ministry as for free education.
Letzte Projektneuigkeit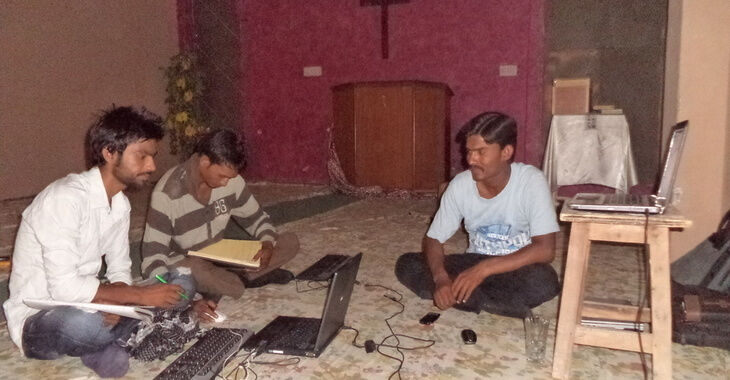 AGAPY Free Computer Education Ministry
We have believe at God that He will provide us resources for students and children education. We want to stand a computer center with 50-100 students in this Year. We want to spread this computer education in every christian town and area of Lahore City and then Pakistan. We are educating to poor christian students professional. We are hoping to donars, organizations or ministries for help. People can support us through finance, computers, laptops and other accessories for AGAPY Ministry. We are trying to provide best bible and computer education. I have believe through this mission we can overcome on war and terror in Pakistan.

weiterlesen
Kontakt
House No 482, Block 3, Sector C-2, Green Town Lahore
Lahore
Pakistan


Adnan G.
Nachricht schreiben