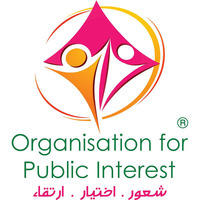 Organization for Public Interest
wird verwaltet von G. Mustafa
Über uns
Established in 2008, Organization for Public Interest (OPI) is a non-profit and non-governmental organization working for elimination of poverty and injustice in Pakistan. OPI has been registered under the Societies Registration Act, 1860 on September 14, 2009.

OPI works with extremely poor, neglected, underprivileged and vulnerable communities in Pakistan with a focus on women, children and youth. OPI promotes a democratic, fair and progressive society and advocates for equal rights of women & children. OPI believes that women have pivotal role for sustainable development in Pakistan. Therefore, it undertakes a number of activities, projects and programs to support active participation of women in political, economic, and decision-making processes in the country.

Pakistan is world's sixth most populated country where more or less 63% population is less than 25 years of age. Such a large number of youth in Pakistan deserves a lot more attention. However, the youth, unfortunately, lacks opportunities for growth due to endemic poverty and high ratio of unemployment. OPI works with youth in order to enhance their leadership capabilities and to provide them with better economic and social opportunities.

Children are another marginalized group of population in Pakistan. From malnutrition and poor access to education and health facilities to exploitation in the form of child labor; there are variety of serious challenges for children. In rural areas of Pakistan, 74% children work in agricultural fields whereas in urban areas 31% children work as child laborers in manufacturing concerns. Pakistan has a high rate of child sexual abuse where most cases remain unreported due to social constraints. Corporal punishment and other forms of physical & emotional abuse is a common practices especially in rural & semi-urban areas. Pakistan has a high rate of child marriages and girl children are more victimized through this practice. In year 2012, 42% out of 60 million child marriages in the world were from Pakistan. In this pathetic situation of child rights, OPI strives to ensure provision of equal rights & protection to the children at community, society and state levels.

OPI's interventions are based upon holistic approach. Our strategies include awareness-raising, social mobilization, skills enhancement, law enforcement, service delivery, and advocacy.