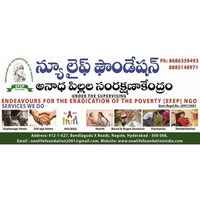 NEW LIFE FOUNDATION
wird verwaltet von r. mamidi
Über uns
About us
Registered under the Indian Trust Act, New life foundation is a not for profit social development Organization. Our activities are focused on development and empowerment women and children. The foundation comprises of well experienced people who have been in development, service to mankind, livelihoods farm and non farm, Education, Child development and Health sectors.
New life foundation was started on September 2013 with 5 children. It has, at present Residential 20 children Orphans and Semi Orphans and Non Residential 70 children those who are poor and slum children, above children ranging in age from 4-12 years, All of them have either been abandoned or orphaned. Among the total 20, the girls constitute 50 percentage and the boys 50 percentage. With the objective of providing relief and solace to the poor and needy by imparting education and social welfare in India.
The main motto is to aid as many underprivileged persons as possible to get education, which, for them would not be possible otherwise. The trust is also interested in opening homes for the mentally challenged, and the aged.

New life foundation was initially formed to extend a helping hand, in every possible manner, to every needy and deserving individual and focus to orphanage children & destitute-Street children. Foundation is concentrating on ORPHANS with the dream to transform their misfortune into fortune through humble and dedicated efforts.
The challenge is enormous but foundation is well placed to meet it. The organization uses quality research and data to understand issues, implements new and innovative interventions that address the situation of children, and works with partners to bring those innovations to fruition.
Our organization is uses its community-level knowledge to develop innovative interventions to ensure that women and children are able to access basic services such as clean water, health visitors and educational facilities, and that these services are of high quality. At the same time, reaches out directly to families to help them to understand what they must do to ensure their children thrive. It is located in Hyderabad. These enable the organization to focus attention on the poorest and most disadvantaged communities, alongside its work at the national level.
New life foundation knows that key to addressing these challenges are its partnerships with voluntary organizations active at the community level, women's groups and donors.
The organization also works with an array of celebrities leading actors from the Indian film industry, as well as hundreds of thousands of unnamed volunteers who tirelessly give their time and influence to ensure that, together, they are able to help every child realize his or her full potential.