Christian Fellowship And Care Foundation
wird verwaltet von Clinton E.
Über uns
Christian Fellowship and Care Foundation (CHRIFACAF), is a registered non-profit organization whose aim is to provide free health care and humanitarian services to the surrounding rural communities in Nigeria and beyond in partnership with local and international humanitarian service providers in the identification of target communities for the operation of the foundation in the actualization of her aims. We are dedicated to working with old people, young people, widows, disabled, women, orphaned and vulnerable children, families and their communities in Imo State, Nigeria, to reach their full potential by tackling the causes of poverty and injustice.
Letzte Projektneuigkeit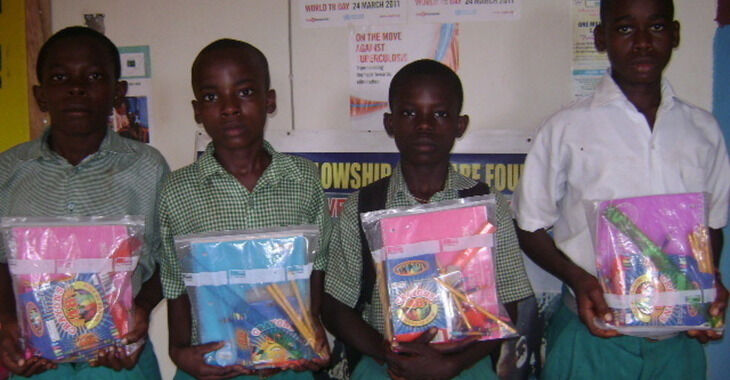 EduThrive Sponsorship:Thanks to Mikus and Jordan!
It's back-to-school time in Nigeria, where the school year runs in three terms: September to December, January to April, and  April to July/August.
In many parts of rural communities , school supplies are a luxury that many classrooms go without. Schools struggle with shortage of materials and classes are crowed with one poorly trained teacher for every 40 to 70 students.Kids deserve better than that. They deserve to have access to the school supplies needed to learn. They should be surrounded by good books, convenient supplies, and the materials necessary to conduct projects and experiments. Students who aren't given the necessary school supplies, can become frustrated and have a difficult time in class.
For families who can't afford even minimal school fees or the cost of books or uniforms, the chance for an education is a great privilege- and one for which they are willing to make a great sacrifices.  Poverty in itself poses a challenge on their ability to cater for their children's education. A chance to learn - children deserve it and it situates them to embody peace and build strong communities. Every child deserves a good education!
Here, children in Ehime Mbano, Imo State, cradles new schools supplies given to them as part of our EduThrive sponsorship program sponsored by Mikus and Jordan. You can help kids like these ones have a better education by donating school supplies to our Eduthrive program!
Tell your friends and family members about the need for school supplies. If you have a blog, run a website, or post on forums and social networks, let the people you interact with know how they can help. Your support will symbolized everything about the value of education and how important it is that all the world's children should have access to the tools they need to succeed and live outstanding lives.  
weiterlesen
Kontakt
2 School Road, Ezeala Owerre, P.O.Box 101,
472101
Ehime Mbano
Nigeria


Clinton E.
Nachricht schreiben
Kontaktiere uns über unsere Webseite