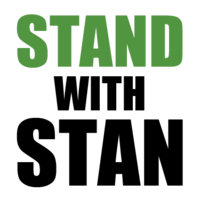 StandwithStan NPC
wird verwaltet von S. Andrews
Über uns
A Non-Profit and Public Benefit Organisation providing quality prosthetics for disadvantage amputees
Letzte Projektneuigkeit
Katleho's already a Champion!
StandwithStan NPC's most recent recipient of a prosthetic leg and foot, 17-year-old Katleho Seheri, feels like a champion even before she participates in the SPAR Women's 5km Race this Saturday. 
Having received her most precious gift only a week ago, and after walking with the aid of crutches since her amputation last year, Katleho is still trying to get used to walking on her own, and she is enjoying every step! 
SPAR North Rand was moved to donate the funds for Katleho's new limb, after reading the teenage girl's tragic story.  StandwithStan Public Benefit Organisation arranged for Katleho to receive her new prosthetic leg in time to join with other amputees and supporters in the StandwithStan team who will all walk 5 kilometres in South Africa's most beautiful road race, this Saturday.   
Many of the teenage girl's classmates, teachers and friends will be at Supersport Park in Centurion to cheer her on.  Katleho is looking forward to every step she will take as she celebrates her personal triumph over a long and debilitating illness, agonising pain, gangrene, a below-knee surgical amputation and then having to walk with the aid of crutches for so long.  
According to her mother, Kgothatso, the tenacious girl is feeling very positive & is determined to complete every step of the 5km race.  She will certainly look like a champion too – leading global athletic products company, New Balance, has very generously kitted her out from head to toe for the special occasion. You're a true champion, Katleho!
weiterlesen
Kontakt
Norite Road
1724
Johannesburg
Südafrika


S. Andrews
Nachricht schreiben
Kontaktiere uns über unsere Webseite