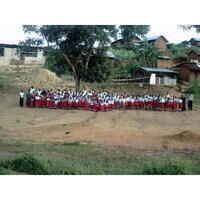 New Hope Children's Home & Rehabilitation Centre
wird verwaltet von J. Eyama
Über uns
New Hope Children's Home and Rehabilitation Centre is a community-based organization founded in Dec.2004. It was established to cater to orphans, abandoned children, children from the Mombasa streets lacking the basic human needs (e.g. shelter, food, medication, clothing, parental care and counseling, and, most of all, the education essential for their later lives).

The founder of this centre was able to go to school because he was sponsored by an Asian man based in Nairobi: Pandya Mohandulla Chandulla. This man had employed his father as a houseboy, whose wages were very small and acted as a Good Samaritan by educating five children from that family. Proud of what he accomplished as a result of that sponsorship, the founder of this centre felt that through the centre he too could change the lives of many children who would otherwise not make it in life because the basic needs were inaccessible and thus they would be unable to achieve their dreams.

Most parents of these children have perished as a result of HIV/AIDS. Due to poverty and illiteracy, parents are dying leaving behind parentless children. Some are already HIV positive and this to some extent has led to discrimination and isolation, thus causing some to end up living in the streets exposed to the dangers that accompany such a life.
All in all, "me and you" can change the lives of many if we unite, if we work together.

The New Hope is in Kenya-Coast Province-Mombasa District-North Coast-Kisauni Division-Mshomoroni next to Bengala Slums.

The centre has 47 children who fully rely on donations from Good Samaritan Siloam Chapel Bakarani-Mombasa and to voluntary workers. The centre is composed of 3 Swahili rental houses which serve as dormitories, a school which has pre-primary and primary classes 1-6. The school also provides education to other children from the community who come from poor families, so it has a total population of 233 pupils and 11 teachers who offer voluntary services.
Kontakt
Nyali Road
80100
Mombasa
Kenia


J. Eyama
Nachricht schreiben
Kontaktiere uns über unsere Webseite