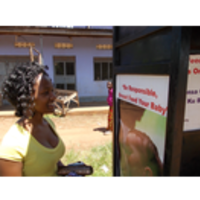 Shades For Shelter and Health Education
wird verwaltet von J. KITYO
Über uns
Shades in the City and Specific communities will provide much-needed shelter from the torrential rain and searing heat for the local community, particularly breast-feeding mothers, the elderly and people with disabilities. The shade stands will also be used for health education.

We are now looking to construct 10 shades in Pader and Gulu in Northern Uganda. We also would like to construct One shade for the entrance of the mental Illness Hospital in Butabika Uganda. This Shade at the hospital will have messages for Reducing stigma and discrimination based on mental illness.
Other Shades in Gulu and Pader will have other health messages, on health education about Breast feeding, HIV/AIDS and Cervical cancer.

We get land allocations from the cities and communities and construct shades with health education messages. Please, visit our website and see some of the shades we have constructed.
Letzte Projektneuigkeit Shades For Health transformed to Environmental Health
A video of the project is available here: http://www.youtube.com/watch?v=-k3RAmh7Kbw
We are also happy to note that Shades For health has been restructured into a Highbreed intervention that will now address Environmental Health Intervention. Our focus now incorporate interventions on energy options for rural women, Planting fruit trees at garden borderings, Preservation of natural water wells, solar energy and better soil management practices.
We are still building more shades in Luwero and wakiso Uganda.
weiterlesen
Kontakt
Kampala, roas
Kampala
Uganda


J. KITYO
Nachricht schreiben
Kontaktiere uns über unsere Webseite