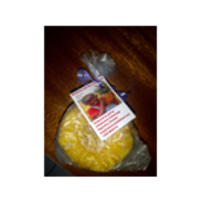 Abana Fruits-ENTREPRENEURS RWANDA
wird verwaltet von V. Monroy
Über uns
OUR STORY - We are a family of 130 living the simple life in west Rwanda. Based on unfortunate circumstances our paths have led us to L'Esperance orphanage. Here we are no longer alone and have a second chance in life.
Here we have the opportunity to be children again and grow safely and around life. . L'Esperance is a place that encourages us to "seize the day. Here we learn about planning for the future and cultivating skills that will help us to be independent. At an early age we all learnt how unpredictable life can be and therefore we have been taught to prepare for the unexpected. It is important to take action for your life. Through projects such as this (Fruit Drying) we are learning the meaning of value. We live on 10 hectares of fertile land and so are able to grow our own food. With the help of our community we have now planted a Fruit Orchard. Recognizing the value in this, we have decided to think like entrepreneurs. Here at L'Esperance through Solar Drying Technology we can produce, package and sell our fruit as a means of income generating. By taking actions and exercising this opportunity we are securing our future. By starting a business we are planning ahead in order for us to become an independent family. By simply purchasing our Fruit you are contributing to the efforts of making us a SELF-SUSTAINABLE HOME.

THE VISION - Presently, our methods of drying fruit is through solar drying technology. This is only meant to be temporary as the consistency and quality of our product can still be improved. With the help of The Johnson Space Centre and Engineers without Borders; we are in the process of fundraising for sustainability. Our vision is to raise enough funding to construct a Processing Hall on the grounds of the orphanage in order to better the quality and production of our product. Upon construction of the Processing Hall we will be able to focus our attention on drying other fruits such as: Mangoes, Bananas, Guavas and Figs. Our company, ABANA FRUITS will then target the international market and begin exporting our fruits to Europe and the United States. The objective and main purpose of this business will always be directed at the needs of the children. Our motives will never change we just wish to change our means of supporting one another. Our goal is to achieve complete financial independence and run a self-sustainable orphanage that no longer relies on charitable donations and stands on its own two feet. Support us in realizing our vision.
Letzte Projektneuigkeit Featured Articles
Visit Engineers Without Borders Johnson Space Center-NASA at:                                   www.ewb-jsc.org/projets/rwanda.html
Also visit Kigali Living at www.livinginkigali.com and under information see good causes and aricle L'Esperance Orphanage for more information.
weiterlesen
Kontakt
Gishyita
Kigarama
Ruanda


V. Monroy
Nachricht schreiben
Kontaktiere uns über unsere Webseite