CAN-Xmas UPDATE

Dear friends of
C•A•N
-
THANK YOU
so much for participating in our
CAN-Xmas-Campaign
– either as a Giver or as a receiver of a CAN-Xmas-Gift.
We offered 4 PRESENTS for you to
give the gift of giving
to your loved ones and to share happiness far beyond the Christmas tree. It was
your
generosity and kindness that made this Conscious Action a success and
together
we made a difference in Ethiopia, Tanzania, India and in the Mediterranean Sea – getting children off the ground through education, sponsoring bees to protect elephants, keeping orphans warm through the winter and saving refugees and humanity from drowning.
• The
CAN-Xmas
Website:
http://CAN-Xmas.org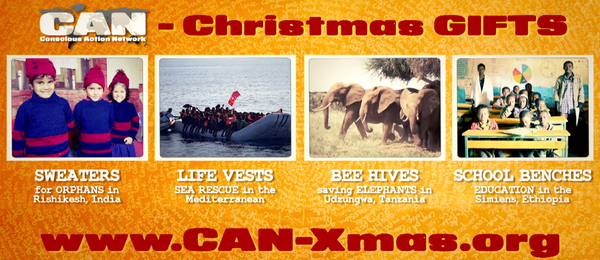 U P D A T E :
1. COSY SWEATERS for RAMANA'S GARDEN CHILDREN'S HOME, Rishikesh, Indien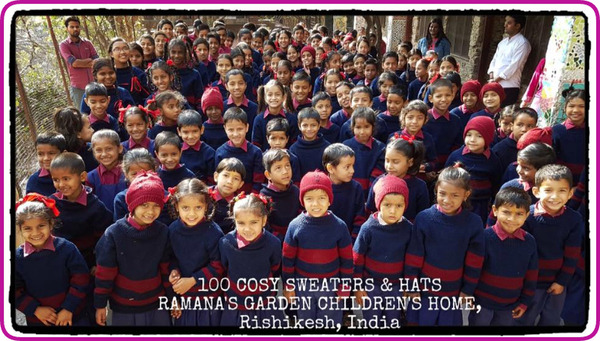 Thanks to YOU the children at RAMANA'S GARDEN CHILDREN'S HOME didn't need to freeze this winter. We sponsored
100 COSY SWEATERS & HATS
to keep them warm.
56 of them were given as presents as part of our CAN-Xmas-Campaign. THANK YOU to all the givers!
The other 44 we financed out of Hans Sigl's CAN-LET-LOVE-RULE-FUND. THANK YOU, Hans!
•
WATCH
the
FILM:
_______________________________________________________________
2. LIFE-VESTS saving REFUGEES in the Mediterranean Sea.
WATCH
this
FILM:

BREAKING NEWS:
Since last week SEA-EYE.org has a second ship: The SEEFUCHS (SEA-FOX).
This year they will patrol the Mediterranean Sea with two ships to rescue Humans from drowning.
The life-vests, which you gave as a Christmas gifts, will go this ship and start serving humanity in May.
But before that we will write the names of the gift-receivers on them and send you the pictures.
If you want to stock up on meaningful birthday presents for the rest of the year - NOW is the perfect opportunity to do so. Birthdays are usually quite predictable and a life-saving-vest is more unique and more useful than a bottle of wine, isn't it? 
• Here is our
DONATION CAMPAIGN
---->
http://www.SEA-FOX.de
_____________________________________________________________________
3. BEE-HIVES protecting ELEPHANTS in Tanzania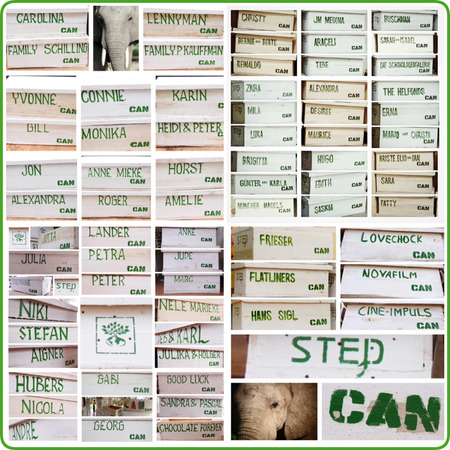 This was our most popular gift last Christmas.
All in all you gave
75 BEE-HIVES
with a total value of 3000€.
In the first few weeks of 2017 we went to Tanzania to document how they are built and painted (bees like them white). We signed them with your names and hung up the first batch on the fence along the Udzungwa National Park. Besides we learned a lot about bees and elephant protection.
Unfortunately the COMPLETION-FILM isn't edited yet (because there is so much great footage).
We will send it to you as soon as it's ready.
Meanwhile there is this little
FILM
from the day we hung up the first 10 hives:
• You can DOWNLOAD your personal BEE-HIVE-PICTURES here:  
https://spaces.hightail.com/space/baA7s
• For those who don't know yet why little bees can guard big elephants - watch the INTRO FILM on our CAN-Xmas-page:
http://can-xmas.org/Project/Index/61
____________________________________________________________________ 
4. SCHOOL-BENCHES for CHILDREN in the SIMIEN MOUNTAINS of Ethiopia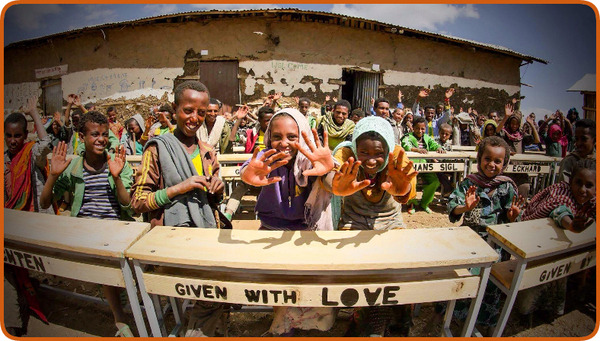 From Tanzania we went (more or less) straight to the Simiens to write your names on the
35 SCHOOL BENCHES
that you have given for Christmas. We visited the 3 schools where those benches will support the education of many hundreds of children. 
• Here is the
FILM
:
This support campaign will continue as well. Currently we are helping to finance the completion of four classrooms at the Chila School (the school where the benches in the film were carried up to) out of the LET-LOVE-RULE-FUND by HANS SIGL.
Right now the mud work on the walls is being done. Later we want to finish the floors as well. Those classrooms, and many more in the other schools, need more benches.
Therefore we are extending this GIFT-CAMPAIGN so you have
wonderful presents all year
for all occasions. Allow a few days before you get the picture of your dedicated school bench with the name of your choice on it.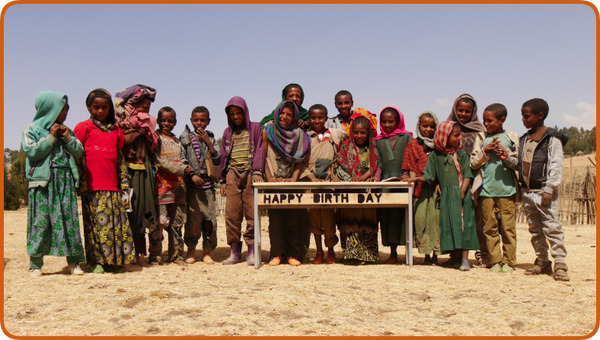 You can download this picture HERE:
https://spaces.hightail.com/space/phuhe
________________________________________________________________________________
THANK YOU
to everyone who participated in our
CAN-Xmas-CAMPAIGN
.
We hope that all gift receivers are happy with their Christmas presents.
For sure these presents will bring sustainable happiness to the children in Rishikesh, and the people in the Mediterranian saved with your life-vests, the farmers, bees and elephants in Tanzania, and the children in the mountains of Ethiopia.   
We hope that you will keep participating in the
C•A•N
Activities in the future and let others know about it too, so they get a chance to be part of it. That way our CAN-Community can expand and the impact we can make will become even more significant.
Especially at a time when new walls are being built and old borders being closed, when societies fall into division and the spirit of TOGETHERNESS is in danger of getting lost, it is important to take conscious action in this very spirit.
No matter how crazy and dangerous the world might seem these days, this particular age we live in offers us the unique opportunity to make a difference in a simple and fulfilling way.
We CAN all celebrate this freedom and this power that we have though our Conscious Actions and share a our happiness with those who can use a little support.
Not because we have to - but because we
CAN
.
__________________________________________________
THANK YOU
to the four wonderful
PROJECTS
and all those
CAN-HEROS
running them:
1.
THANK YOU
to RAMANA'S GARDEN's founder and director, DEVA DWABHA, whose infinite kindness and dedication created this oasis of love and transformation in Rishikesh, India.
Whenever you're in the area you should check out this magical place and enjoy the delicious food at its organic cafe.
• RAMANA'S GARDEN PROJECT on betterplace:
https://www.betterplace.org/p27709
• RAMANA'S GARDEN Website:
http://www.SayYesNow.org
• RAMANA'S GARDEN auf Facebook:
https://www.facebook.com/Ramanas-Garden-Childrens-Home-224313421063260/
2.
THANK YOU
to MICHAEL & BUSCH BUSCHHEUER and the organization
SEA-EYE
- and all the crews on board and ashore - for the smooth collaboration and for saving so many human lives. Because with every person who drowns in the Mediterranean we are losing a piece of our own humanity.
• More CAN-FILMS on SEA-EYE:
http://www.mission-humanity.com
• SEA-EYE website:
http://www.SEA-EYE.org
• SEA-EYE bei facebook:
https://www.facebook.com/seaeyeorg
3a.
THANK YOU
to the whole staff of
S.T.E.P.
- the
S
outhern
T
anzania
E
lephant
P
rogram -
for taking such good care of us while we were there and patiently explaining to us to the details of their work. We are happy to keep supporting this wonderful project.
• S.T.E.P. DONATION-SITE on betterplace:
http://www.betterplace.org/p51854
• S.T.E.P. Website:
http://www.stzelephants.org/
• S.T.E.P. bei Facebook:
https://www.facebook.com/SouthernTanzaniaElephantProgram/
3b.
THANK YOU
also to
Original Beans
(especially PHILIPP and HARI) for this wonderful Cooperation and for providing all of us with the most delicious way to make a difference - by eating chocolate to protect the planet. The next projects are already in preparation.
• A little FILM with
Original Beans
Founder PHILIPP KAUFFMANN:
• ORIGINAL BEANS Website:
http://www.originalbeans.com
• ORIGINAL BEANS bei Facebook:
https://www.facebook.com/originalbeans/
4.
THANK YOU
to NICK CRANE (Simien Lodge Chief), AKILU (Lodge Manager) and the whole staff and team. We had such a magical time in and around the SIMIEN LODGE on the roof of Africa. We are so happy to be able to make this difference together with you
• SIMIEN MOUNTAINS SCHOOL PROJECT auf betterplace:
http://www.SIMIENS.org
• SIMIEN LODGE (The Highest Hotel in Africa) Website:
http://www.SIMIENS.com
• SIMIEN LODGE auf Facebook:
https://www.facebook.com/simiens.lodge/
TOGETHER WE
CAN
______________________________________________
SPECIAL THANKS
to our
C•A•N-PARTNERS & SPONSORS
,
whose generous support enables us to do our work:
• HANS SIGL ------
http://www.hanssigl.de
• LOVECHOCK ------
http://www.lovechock.com
• FLATLINERS ------
http://www.flatliners.tv
• CINE-IMPULS ------
http://www.cine-impuls.de
• NOVAFILM ------
http://www.novafilm.de
• FRIESER Munich ------
http://frieser-muenchen.de
• ADVERTISING ALLIANCE ------
https://www.advertising-alliance.de/
• HARI & the TRUEFFELSWINE ------
https://www.facebook.com/Trueffelswine-160597277309465/
• VEREIN der VISIONAERE ------
http://www.verein-der-visionaere.de
• betterplace.org ------
https://www.betterplace.org/de
• MARGARET RICHARDSON (founder of Rigul Trust)
• HANNA SAHLMAN (Coder's Dojo for the world)) - CODE-WRANGLER of the CAN-Xmas site.
• DANDA - LoveCompassionGratitude (spinning background art):
http://DandaHesselmann.de
• LORETTA STERN - Voice Over Intro Film
• GÜNTER & KARLA ZACHMEIER (
CAN PROMOTION TEAM MUNICH
)
Also:
MICHAEL KASTENBAUM, MARK HATWOOD, RINGU TULKU, KARMAPA, the DALAI LAMA and all others who directly or indirectly inspired or supported this interdependent production and the
C
onscious
A
ction
N
etwork in general.
The CAN-Africa-Team 2017:
• ARACELI LASSO
- producer, camera-woman, bookkeeper, a.d., a.c., p.a., u.p.m. & advocatus diaboli...
• TOM ZACHMEIER
- director, camera, editor, CE, MD, ...



THANKS
for making a difference together
... because TOGETHER WE
CAN
STAY TUNED:
http://www.CANfilms.org