Anderes Sehen e.V.
managed by S. Zimmermann
About us
Anderes Sehen (which means "a different way of seeing"), founded in April 2011 by a couple with a blind child, is the first organization in Germany to support blind children in the age before entering school. We claim that it is absolutely necessary to give already those little ones at least the same support as sighted children do receive.

The Situation
Actually blind children in Germany do not have a chance to learn to walk and navigate fearless by themselves due to the fact that they do not get white canes when learning to walk. Also there is not a single book available in Germany for those kids to learn basics of the world in opposite to thousands for sighted children. Also there is no knowledge or training flash sonar to them, which is a proven and well known technique of the blind to orientate and navigate through unknown terrain by tongue clicking and "seeing" the echo-image. Further there is a lack of trust in the possibilities of blind children which causes a restricted mobility and a low self-confidence in their later life.

Our Vision
Anderes Sehen wants to achieve that blind people in Germany can live a life without given limits, but only with their own limits. We help them to get an early education and early self driven mobility. We support a no limits attitude for the children and their parents.

What We Do
In order to achieve those goals we invented a special children's high tech white cane for less than 20€. We researched for suitable books abroad and are currently negotiating with a french publisher to produce them in German. We organize and give trainings for children, parents, teachers and even professional mobility trainers. We send out information, do political work and provide a website with a huge knowledge base.

All this we do as two people, aside to our jobs. We are deeply thankful for any help.
Latest project news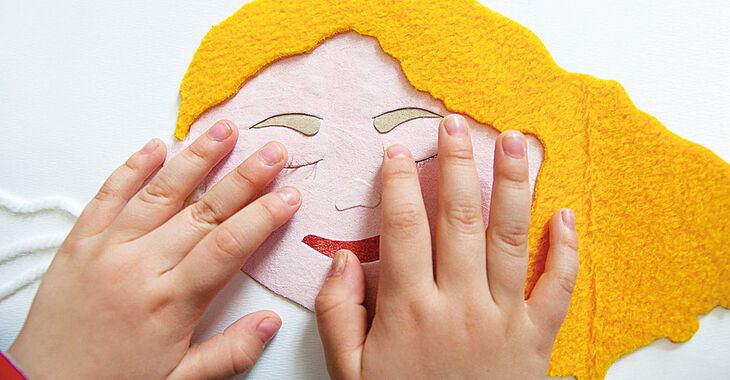 Wir haben 1.821,59 € Spendengelder erhalten
Liebe Unterstützer unseres Projektes,

wir bedanken uns für Ihre Spende, mit der wir wieder an einem neuen Buch und an einem Kartenspiel für blinde Kinder arbeiten können. Beides ist natürlich so konzipiert, dass die Kinder mit Ihren Geschwistern und Freunden, aber auch mit Ihren Eltern zusammen lesen, betrachten und spielen können. 

Für das Buch wählen wir derzeit aus den geeignetsten Vorlagen eines aus und machen Entwürfe. Bis wir es dann ausgearbeitet haben, wird noch viel Arbeit und Zeit zu leisten sein. Aber wir haben damit schon viel Erfahrung. Das wird unser vierzehntes Buch! Leider sind zehn davon inzwischen schon vergriffen. Darum brauchen wir dringend neue. Sie haben dazu einen wichtigen Beitrag geleistet. 

Zum Spiel haben wir bereits einen Prototypen entwickelt und arbeiten diesen nun weiter aus, bis er dann so weit ist, dass wir eine kleine Auflage davon herstellen können. Das Spiel trägt den Namen "Six Dots" und wird ein Sixtett. Hier sammelt man nicht vier Karten wie bei einem Quartett, sondern die sechs Karten einer Familie, die zusammen einen Braille-Buchstaben bilden. So lernen alle Mitspielenden spielend etwas dazu. Wir hoffen, dass wir das Spiel in diesem Jahr herausbringen. 

Wir hoffen, dass Ihnen dieser kleine Einblick in unsere Arbeit gefällt und dass Sie uns weiter unterstützen.
Beste Grüße
Steffen Zimmermann und das Team von Anderes Sehen e.V.
continue reading
Contact
Zionskirchstr. 73
10119
Berlin
Germany


S. Zimmermann
New message
Visit our website