AWARD - ARUNODAYA MANO VIKASA KENDRAM
managed by I. Aruna Devi
About us
Many years ago, my life took an unexpected turn, with the birth of my son. Who diagnosed with cerebral palsy and declared partially sightless with nystagmus and corneal ocapcity. My ordinary world suddenly overturned. At that time I had to idea to do something for my child and future generations to come. My son was no more today, and to embody of love, care and affection on him was born Arunodaya Mano Vikasa Kendram, a special school for the mentally challenged children.

It has been the long journey from the point of time…

As I found that there is large number of mentally challenged children in and around and as I am native of Bhimavaram, I decided to establish an institution for the purpose of saving as many mentally challenged children and their families as possible. Accordingly I started 'Arunodaya Mano Vikasa Kendram in 1994.

Fortunately I could secure a suitable building for running my institution at a calm and serene locality. With the help of committed, like minded persons as Governing Body members, we registered it as Society u/s XXI of 1860, in the name of 'AWARD' (Association for Welfare and Comprehensive Rural Development).
The mentally challenged are between one and three percent of India's population However, as intellectual impairment is an invisible handicap, it is generally not recognized and little is known about it Awareness about their abilities and services to improve their quality of life are inadequate The divide is even more pronounced in the rural areas

Having a baby is the happiest thing in a marriage but not, if the child is in any way less than 100% perfect. And a child, a special child, one of God's own child in other words a Mentally challenged child. There is no celebration. The Mentally challenged child is an unwanted baby - both to the society and to their parents. Parents can never recover from the shock and consider them a burden. Consequently, they withdraw from the society and make no investment on the child.

'AWARD' is a devoted voluntary service organization dedicated to serve the rural poor and disabled persons, was established in 27th May 1994 in a humble way... The society was backed by dedicated, committed force of social workers.

Smt. I. Aruna Devi, founder of the association worked more than a decade as special educated Teacher and served many different kind of mentally retarded children. There are so many mentally retarded children belonging to very poor and low income families who are identified in West Godavari District and the services are not available for them. So there is a need for an institution which can serve the unserved mentally Handicap children.

"Arunodaya Mano Vikasa Kendram" special school for welfare and training of mentally retarded children started with specific objectives to serve the mentally handicapped children. We provided special education and training to hundreds of mentally retarded children and our humble service for them received public admiration.

Arunodaya School for the Special Children in the Bhimavaram area is one such institution with a strong conviction and unrelenting endeavour to move towards a common dream of filling love and affection into the lives of the mentally challenged and the disabled.

Our organisation helped them to secure Government Disability Cards that entitle them to a number of benefits such as pensions, concessional travel.
Latest project news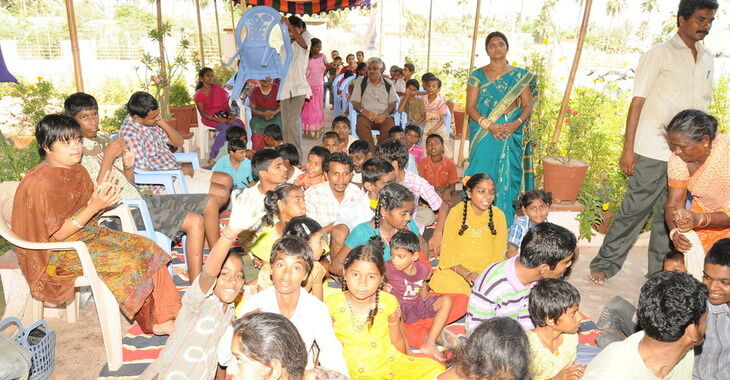 Donations that cannot be used for the project
Dear donors,
when managers of a project haven't requested a payout over the course of a longer period, the German law and our terms of use provide that we (gut.org gemeinnützige AG, operator of betterplace.org) use the money for our tax-deductible purposes. The same applies to the cancellation of a project, where the manager of the project is unable to realize it.

Therefore we will use these donations for the following purposes

Thanks for your support,
the betterplace.org-team
continue reading
Contact
7-7-36/3, KODAVALLI ROAD, Bhimavaram-534 203, West Godavari District
534203
Bhimavaram
India


I. Aruna Devi
New message
Visit our website