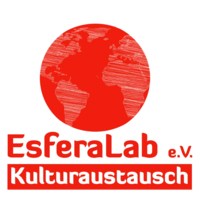 EsferaLab e.V.
managed by Koshan Mahdi
About us
We are a group of Berliners with multicultural roots who are committed to art and culture in its universal diversity and see it as an enrichment for individual and intercultural development. Our goal is to create places where both international artists can show their work in Germany and German artists can present their work abroad. We want to establish a regular platform for the exchange between cultures. EsferaLab supports artistic and/or cultural projects within the framework of our goals by acting as an intermediary to necessary funding and infrastructure on site. We address people who want to create and/or disseminate artistic works with an intercultural reference, e.g. through their own migration background or through mediation of cultural exchange.
Latest project news
Wir haben 923,32 € Spendengelder erhalten
Es geht los: Wir beginnen mit dem Tanzboden im großen Saal. Wir haben lange recherchiert, welche technischen Alternativen es gibt und was die Vor- und die Nachteile sind. Es wird ein Schwingboden mit Holzunterkonstruktion und Holzparkett verlegt. Diese Technik verspricht neben der hervorragenden Funktion auch eine sehr lange Lebensdauer.
continue reading