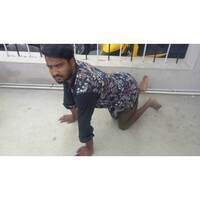 Rural Physically Handicapped Centre For Rehabilita
managed by betterplace-Team
About us
Sir in the village areas most of the poor disabled people suffering with lot of problems. Due to their disability their organs are not co-operate to work for their livelihood.our organization help to such person according to their skill.to provides self-employment as cattle sheds.growwing sheep.tailoring shops.xerox shops .computer shops & petty shops.no banks are come forward to give loans to the poor disabled people for their investments
Through our Organization in the villages area decided to establish self-employment to the poor handicapped persons according to their eligibility by providing cow growing. Sheep growing. establishment of Tailoring Shops. Computer centers.petty shops & xerox shops. For this program our Organization appointed 12 community coordinators.
Through them open bank accounts in the names of disable persons with Rs 10000/-to each person by the organization for cow growing.sheep growing .petty Shops. Xerox shops. Tailoring shop & computer shops.
Contact
Nallasidanapalle Village. K.g Sathram post.bangarupalya.
Chittoor
Chittoor. Anthra Pradesh. India
Germany


betterplace-Team
New message