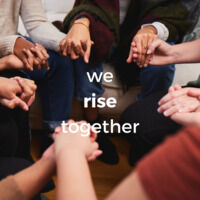 We Rise Together
managed by Preshika Wright
About us
We Rise Together provides trauma survivors a safe haven of love, support and friendship. Founded by and managed by trauma survivors, and for immigrant English speaking women in Munich. Community activities include support group and one-to-one meetings, online chat groups, yoga and art therapy classes. The community also offers self help educational resources, self-care motivation circles, social events, group trips to clinics and support for visits to women's shelters, police, lawyers, therapists and courts.

We are seeking donations to pay for yoga and art therapy classes, seminars and educational resources. There is a significant lack of therapy in Munich especially English speaking therapy so we are seeking other therapeutic modals.

A humble winner of the national Start Social 2021/2022 after pitching the concept of healing through community.