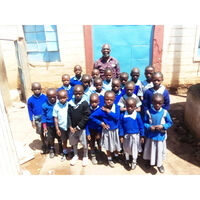 Widevoc
managed by DICKSON OTIENO
About us
ACKNOWLEDGEMENT AND REQUEST FOR FINANCIAL INTERVENTION.
I have pleasure to acknowledge your good working rehabilitating our young good girls .And school going
children who live below their socio economic privileges.
We the WiDeVoC also give such services to young boys and girls who are not able to go to school
because of reasons ranging from:
 Being a total orphan after death of both parents while the girl or boy is still at tender age but
has no one else to take care.
 Restoring children who through bad influence have got into street life.
 Morally taking care of and demonstrating parenthood to children whom by reasons of hardship
in their families end up being vulnerable to the challenges which easily overwhelm them
negatively.
 By follow up encouraging and sustaining parents or guardians of such children with little
resources we collect from church members at Sunday services. Which is way below the finances
that both school fees and food for lunch in school as well as sustenance for the orphans and
vulnerable demands each month.