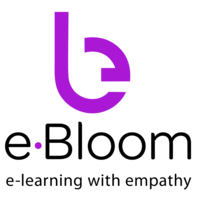 e-Bloom
managed by Estefania Patricia Fernandez Delgado
About us
e-Bloom is an e-learning academy which is not a NGO but supports NGOs.
Our mission is to train and empower the future leaders with the right mindset for tomorrow's needs and create equal opportunities.
Our mantra is e-learning with empathy.
This is how it works:
- Learn at your own pace with our online courses - ALL TRAINING ARE FOR FREE FOR OUR NGO PARTNERS
- Apply to participate in one of our co-creation workshops to find solutions for real problems presented by our NGO partners - LEARNING BY HELPING
- Network and Help each other in our Slack Community
We are creating this profile at Betterplace to initiate campaigns that got started at our workshops to give the first push for the NGO.