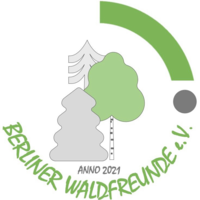 Berliner Waldfreunde e.V.
managed by Sebastian Schuster
About us
The purpose of the association is to promote nature conservation and the
landscape conservation within the meaning of the federal nature conservation act and the
nature conservation laws of the countries, environmental protection, including climate protection,
coastal protection and flood protection. The purpose of the statutes is
in particular realized by
a) the acquisition or possession of forest land so that it is close to nature
silviculture for the sustainable protection of forest ecosystems in particular under
can contribute to the aspect of climate change.
b) Raising the awareness of the forest among those taking part in the work assignments
and nature and man's relationship to forest and nature.
Latest project news
Wir haben 4.608,30 € Spendengelder erhalten
Hallo liebe SpenderInnen,
2021 war für uns ein wunderbares Jahr. Für unseren Mikrokosmos ging es 2022 mit der Eintragung ins Grundbuch am 09. August 2022 für unser Waldstück im Exin Falkenthal auch sehr gut weiter. Doch dann stand auf einem Mal Ende Februar die Weltpolitik vor der europäischen Haustür… ohne Frage schockierend und Leid ohne Grenzen.
Einige von uns konnten positiv bei der Unterbringung von flüchtenden Menschen beitragen und helfen. Eine kleine Geste bei all diesen furchtbaren Nachrichten.
Der Wald wird nicht wegrennen, doch müssen wir das Geld (4.608,30€) abrufen, welches sich seit Ende des Jahres angesammelt hat, bevor es verfällt.
Wir möchten uns herzlich bei allen für die Unterstützung bedanken!
Momentan ist kein potenzielles Waldstück zum Kaufen in Aussicht, doch wir werden den Grundstücksmarkt weiter aktiv beobachten und können dank der Spenden nun flexibel und schnell handeln, denn der Markt ist schnell… was heute nicht ist, kann morgen sein…
Wir bleiben dabei auf jeden Fall dran, denn schließlich wollen wir den Urwald von morgen schaffen, weiter vergrößern und so ein wenig Verantwortung für uns und die nächste Generation tragen!

Liebe Grüße, eure Berliner Waldfreunde und in diesem Sinne: Bis bald im Wald!
http://www.berliner-waldfreunde.de
continue reading
Contact
Karlshafener Str. 24
12623
Berlin
Germany


Sebastian Schuster
New message
Visit our website