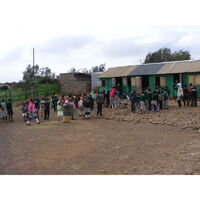 ParkviewOphansSchools
managed by PARKVIEW OPHANS SCHOOLS
About us
POAS (PARKVIEW ORPHANS ACHIEVERS SHELTER PROJECT) is a Christian faith based non-profit
making community social, education and health advocacy organization based and working for
the people of Kajiado East sub-county. POAS main thrust is the administration of social,
economic, health and education rights for the poor, vulnerable and marginalized children in the
community in line with God's will in creation. In most of our local rural- urban townships
especially the ones situated near major urban cities and towns, one will realize a lot of so many
children who looks dirty, hungry, malnourished and sickly moving around begging, collecting
anything seemingly of value, i.e. (plastic waste materials , metallic waste materials, etc. to sell to
recyclers, sometimes jeering and roughing up residents and even stealing on unsuspecting
passersby and neighborhoods.