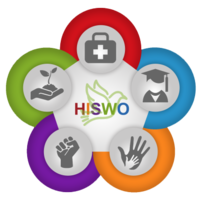 Haqooq e Insaniyat Social Welfare Organization
managed by Haqooq e Insaniyat
About us
Haqooq-e-Insaniyat Social Welfare Organization (HISWO) established in 2011 and registered with Directorate Voluntary Social Welfare Agencies under Ordinance 1961 (XLV1 of 1961) Government of Sindh, Pakistan. HISWO is a nonprofit and nongovernmental humanitarian and development organization working in the underprivileged areas of Karachi Sindh, Pakistan on Health, Education & for the Welfare of needy People. HISWO is certified by the Pakistan Centre for Philanthropy (PCP). HISWO is tax exempted from Federal Board of Revenue (FBR) as a not for profit organization.
The Program of HISWO works with most vulnerable, marginalized, and indigenous urban and suburban communities of Karachi for their economic empowerment, institutional building, securing
rights to provide access to education, health, and WASH, and supports in emergencies & gender transformative, inclusion, tackling disabilities, community engagement and partnership approach which ensures the ownership and sustainability.
Contact
Suit No. 15, 4th Floor, Zohra Plaza, Block 13-C, Opposite Urdu University, Gulshan Iqbal
4421
Karachi, Pakistan
Pakistan


Haqooq e Insaniyat
New message
Visit our website