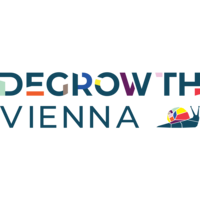 Degrowth Vienna
managed by Noémie C.
About us
Degrowth Vienna is an association that was founded in 2018 for the organization of the Degrowth Vienna 2020 Conference on Strategies for Social-Ecological Transformation. It has since developed into a dynamic organizing team (the "Orga Team") of 20-30 members and has sprouted three post-conference projects.
We aim to bring the idea of degrowth into political spaces and organizations in Vienna as well as advance the understanding of and engagement with strategy within the degrowth movement. Degrowth Vienna stands for social and environmental justice, and global solidarity and equality. We strive to be self-reflective and critical of who comprises the degrowth movement and recognize the need for more internal diversity and intersectional approaches.
Contact
c/o Institut für Soziale Ökologie, Schottenfeldgasse 29
1070
Vienna
Austria

Noémie C.
New message
Visit our website