Schulwälder für Westafrika e.V.
managed by Anja Nitzsche
About us
The Ghanaian-German association "Schulwälder für Westafrika e.V." (School Forests for West Africa) is committed to environmental protection by focusing our work on the environmental education of children and young people from both countries within the framework of school partnerships. In doing so, we follow a learning-by-doing approach: In our tree nursery in Ghana, we raise seedlings using environmentally friendly measures (e.g. no pesticides) and then distribute them free of charge to our partner schools in the central region of Ghana. There, the school children plant the trees in their schoolyards and take care of them. In this way, they contribute to the reforestation of the rainforest and at the same time get shady places for lessons and for playing. As additional motivation, the pupils receive solar lamps. These solar lamps are a clean and cost-effective alternative to candles or paraffin lamps, which are harmful to the environment and health.
Latest project news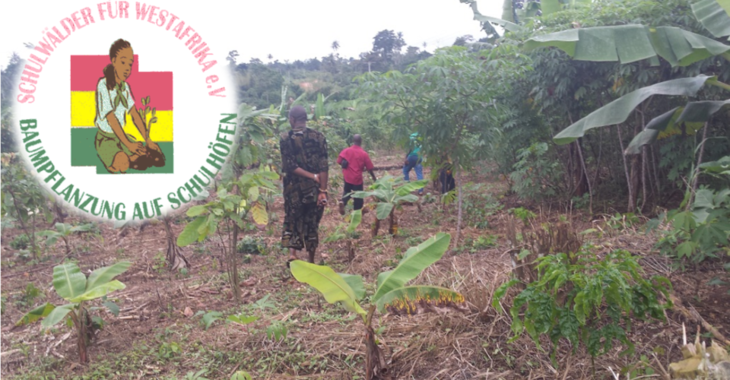 Wir haben 1.093,74 € Spendengelder erhalten
Lieber Unterstützer*innen,

der Vorsitzende des Vereins "Schulwälder für Westafrika e.V." Dr. Essiamah konnte sich während seines dreimonatigen Aufenthalts in Ghana vom Fortschritt auf dem Gelände des zukünftigen Umweltbildungszentrums überzeugen. Zusammen mit Herrn Klaus vom ECOLOG Institut in Lüneburg begutachteten sie unter anderem den Bau eines Solar-Pumpen-Brunnens und der Sicherung des Geländes durch Einzäunung. 
Bei der Ankunft mussten sie leider feststellen, dass der Bau der Hausmeisterwohnung ins Stocken geraten war. Dank eurer tollen Hilfe war es uns gelungen, die Baumaterialien zu kaufen, aber das Geld für den Bau und die Bedachung war dennoch knapp. Da auch in Ghana die Kosten im Moment stetig steigen ist der Verein in Vorleistung gegangen und wir freuen uns nun, dass wir einen großen Teil der Ausgaben dank eurer Spenden begleichen können. Die Mühe war auch nicht umsonst, denn noch bevor Herr Dr. Essiamah sich Mitte September wieder auf dem Weg nach Deutschland machte, konnte er sich von der Fertigstellung des Hausbaus überzeugen (siehe Foto)!

Nun kann immer Wachpersonal vor Ort sein und auch dank der großzügigen Unterstützung der Niedersächsischen Bingo-Umweltstiftung das Umweltbildungszentrum nach und nach konkrete Formen annehmen.

Im Namen des Vereins "Schulwälder für Westafrika e.V.", sowie des "Youth and Environment Clubs" in Ghana bedanke ich mich ganz herzlich für eure Unterstützung und hoffe, ihr bleibt unserem Verein weiterhin treu!

https://betterplace-assets.betterplace.org/uploads/project/image/000/100/915/287517/limit_600x450_image.png
continue reading
Contact
Geiststraße 2
37073
Göttingen
Germany

Anja Nitzsche
New message
Visit our website