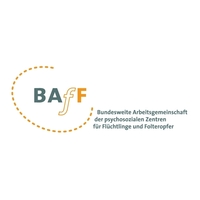 BAfF e.V.
managed by Isabelle Hindenberg
About us
The Federal Association of Psychosocial Centres for Refugees and Torture Victims (also known as BAfF) is the umbrella organisation of treatment centres for victims of human rights violations and political persecution. We help people who have experienced unimaginable suffering. Survivors of war, torture and flight come to us. Many of them are ill and severely traumatised. The people need support, protection - and also access to medical and psychological treatment.

Currently, 47 psychosocial centres from all over Germany are networked in the BAfF, which are committed to the medical, psychotherapeutic and psychosocial care and rehabilitation of survivors of war, torture and flight and other serious human rights violations.

The aim of our work is to make the challenges in the psychosocial centres visible on a local, regional, national and international level and to highlight the ever-increasing need for treatment.

The BAfF is a non-profit organisation and relies on donations. Support us so that we can continue to work for adequate access to health care for refugees!
Latest project news
Wir haben 3.276,00 € Spendengelder erhalten
Es gibt nur eine Menschenwürde – Asylbewerberleistungsgesetz abschaffen

Viele Geflüchtete erhalten in Deutschland seit fast 30 Jahren Leistungen, die unter dem menschenwürdigen Existenzminimum liegen und haben nur eingeschränkt Zugang zum Gesundheitssystem. Daran ändert auch das neue Bürgergeld nichts, das seit Januar 2023 die Hartz-IV-Leistungen ersetzt. Die BAfF als Dachverband der Psychosozialen Zentren für Flüchtlinge und Folteropfer hat zusammen mit PRO ASYL und dem Flüchtlingsrat Berlin einen von 62 Organisationen unterzeichneten Appell initiiert, der die Abschaffung des Asylbewerberleistungsgesetzes und gleiche Rechte auf Sozialleistungen für alle in Deutschland lebenden Menschen fordert. 

Zum Hintergrund: Seit 1993 gilt für asylsuchende und geduldete Menschen mit dem Asylbewerberleistungsgesetz ein diskriminierendes Sonderrecht unterhalb des sozialrechtlichen Existenzminimums. Das betrifft auch die Gesundheitsversorgung, die durch das AsylbLG anders als bei gesetzlich krankenversicherten Personen nach wie vor auf akute und schmerzhafte Erkrankungen beschränkt wird. Psychisch erkrankten oder traumatisierten Personen werden deshalb in der Praxis nur äußerst selten die Behandlungen gewährt, die nötig wären, damit die Betroffenen sich hier in Deutschland ein neues Leben aufbauen können. 

Durch Eure Spenden können wir das gleiche Recht auf Sozialleistungen für alle in Deutschland lebenden Menschen, ohne diskriminierende Unterschiede, fordern. Das Asylbewerberleistungsgesetz muss abgeschafft werden. Die Betroffenen müssen in das reguläre Sozialleistungssystem einbezogen werden. 

Weitere Informationen zu dem Thema findet Ihr auf unserer Website.

Herzlichen Dank für die andauernde und großzügige Unterstützung unserer Arbeit!
continue reading
Contact
Paulsenstrasse 55-56
12163
Berlin
Germany


Isabelle Hindenberg
New message
Visit our website