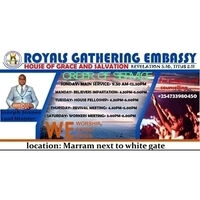 ROYALS GATHERING EMBASSY
managed by JOSEPH Ooro
About us
We are ROYALS GATHERING EMBASSY (RGE), a religious organization based in Kakamega town-kenya. The church begun in March 2019 with an aim of reconciling a people back to God, restore hope to society by:
1. Preaching the gospel of Christ Jesus.
2. Raise a generation of Kings who intensively worship God in Spirit and truth.
3. Set up a centre that offer spiritual and basic education to vulnerable kids and rehabilitation program for drug addicts in society.
The church begun it's operation on a rented house before we got a land that we have leased with the owner willing to sell. We are currently building a temporal church hall for worship service.