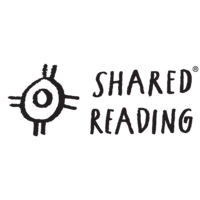 Shared Reading gGmbH
managed by Carsten Sommerfeldt
About us
Shared Reading® is a different way of reading together. It is rooted in the simple but powerful idea of allowing ourselves to be moved by words. Literature is read aloud and talked about in a supportive space, creating a live experience across cultural and social worlds and stages of life. In literature we encounter ourselves and others - and we find comfort and enrichment.

A trained reading leader shows the way into great literature. They encourage, ask questions, and guide a conversation on what has been read and heard. Everyone can say what they think and feel, or simply listen. All are welcome - whether you read avidly or not at all. You need bring only curiosity and openness.

Wer zuhört, gehört bereits dazu! — Those who listen, already belong!

Shared Reading is neither a therapy, nor a bookclub, nor a literature class. It is a tried and tested way to experience the power of literature in an atmosphere of friendly togetherness.
Contact
Lilienthalstraße 2A
10965
Berlin
Germany


Carsten Sommerfeldt
New message
Visit our website