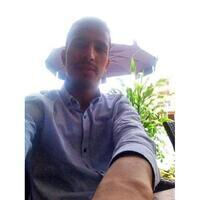 Ismail bel
managed by Ismail Bel
About us
I follow my heart - I have a friend in Morocco, Ismail. He was on his way to get his B1 certificate and work in a German hotel. He had a managerial job in a leading European 5 star hotel in Rabat and started a family that year.
With diligence and the best possible job references, the way seemed free: Then came Covid 19. Morocco issued a lockdown, he first lost his job in the hotel and then his apartment. Now he needs 800, - € to complete his exams and to bridge the time until the end of the lockdown in order to realize his dream. Quite modest by our standards, 800 € would completely get his life back on track.
A tiny amount of money that everyone can do without can turn the life of this young family in their early twenties for the better and provide input to help them help themselves. I myself know times when I was financially on the floor and was extremely grateful for any support. In this respect, I would like to give Ismail this help via betterplace.