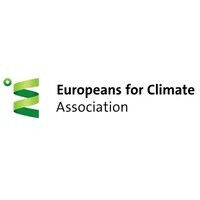 Europeans For Climate Association
managed by Bernhard Heuvelmann
About us
The Europeans For Climate Association pursues the goal of a climate neutral life for Europe. It wants to activate interested and committed people to become activists themselves - because a good life on our planet is possible! But it will only become reality, if we take the overdue step from knowledge to action.
"Intereted and committed people" could be anyone: private indivuduals as well as the entrepreneur in an enterprise. They come from a business background or driven by their personal motivation. What unites them is the deeply rooted convinction that a climate neutral life is the pre-requisite for happiness and peace for all! And that it will always make our lives richer!

The ECA's claim is its benchmark: "You want to shape the future? Then we will help you to! Define your project, implement it and follow it up!"
This is how we measure our success.
And to obtain it, we as the ECA offer networking opportunities and inspiration.
Latest project news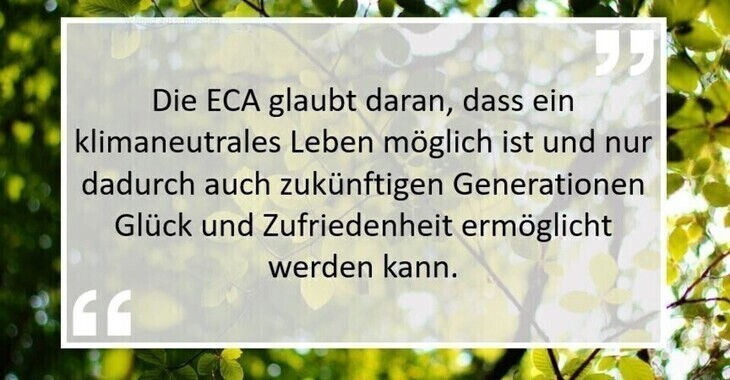 Wir haben 1.438,41 € Spendengelder erhalten
Die Europeans for Climate Association e.V. blickt auf eine Zeit intensiver Aktivitäten zurück. 
Neben zwei Mitglieder*innenversammlungen ist es bei verschiedenen Themen gelungen, interessierte Menschen auf dem Weg vom Wissen zum Handlen zu unterstützen. Hier eine kleine Überblick über die angestoßenen Projekte der ECA: 

- SchulbegrünungsProjekt mit dem Ziel des Carbon Farmings an der Wilhelm Busch Schule in Mannheim unter der Leitung von Katrin Schöner, ECA-Member
- "MDRS For Future": eine "Macher Machen" Initiative an der Marion-Dönhoff-Realschule in Brühl/Ketsch, unterstützt durch Thorsten Werner, ECA-member

- "Die Klimameile" - eine Konzeptentwicklung zu einem Kreislaufwirtschafts-Tausch-Haus, initiiert und betreut von Susanne Berckhemer, Kassenwärtin des ECA e.V.

- "Vamos Symbiosis" - ein interdisziplinäres Wissenschafts- und Kunst-Projekt zum Thema "Mensch und Mehr" in Aquilas, Spanien. Initiiert und gestaltet von Prof. Dr. Annika Guse und Stephanie Guse, beide Mitglieder*Innen der ECA e.V.

- Unterstützung von jungen Forscher*Innen (NL/SP/D) bei der Entwicklung von Intelligenten Stromzählern für den Schulunterricht. Ein Projekt von Pius Bentgens und Utz A.-Thorweihe

- Konzeptentwicklung für ein Klimaneutrales Museum am Bodensee. Eine Kooperation zwischen dem Zeppelin-Museum Friedrichshafen und der ECA. Initiiert durch die Nachhaltigkeitsbeauftragte Frauke Stengel und Utz A.-Thorweihe

- Die Solarfeld-Kooperative in Dossenheim. Eine Zusammenarbeit zwischen der Klimaschutz- und Energie-Beratungsagentur Heidelberg (KliBa gGmbH), der Klimaschutz+ Stiftung e.V. und der ECA e.V. Koordiniert durch Peter Kolbe und Utz A.-Thorweihe

- Das Haftelwald-Projekt - eine Carbon-Sink-Farming-Initiative in der Nachbarschaft zum Haftelhof, SüdPflalz. Geplant, strukturiert und umgesetzt durch Matthias Bongartz, Utz A.-Thorweihe und weitere Mitglieder der Euroepans For Climate e.V.

- Verschiedene Fort- und Bildungs-Angebote zum Thema "Wege zu einem Klimaneutralen Leben in Europa"


continue reading
Contact
Handschuhsheimer Landstr. 60
69121
Heidelberg
Germany

Bernhard Heuvelmann
New message
Visit our website