IIB2 Beratung. Bildung. Arbeit. gemeinnützige GmbH
managed by Claudia Pazen
About us
The IIB2 Consulting. Education. Employment. gGmbH (IIB2), formerly Institute for Inclusive Education gGmbH*, develops and implements educational programs by and with people with disabilities. For this purpose, a qualification was designed in which people with so-called intellectual disabilities are qualified as educational specialists. In lectures and seminars, educational specialists convey the life situations and experiences of people with disabilities to students and thus make valuable contributions to educational work. The qualification to educational specialists creates jobs for people with disabilities, from which they can have a self-determined life.

The IIB2 links and supports people in colleges and universities, politics, administration, associations and companies in order to successfully implement inclusion in practice.

*The Institute for Inclusive Education moved to the Christian-Albrechts-University of Kiel at the beginning of the year. The gGmbH (non-profit limited company) now operates under the new name IIB2 Consulting. Education. Employment. Shareholder of the IIB2 is the Drachensee Foundation.
Latest project news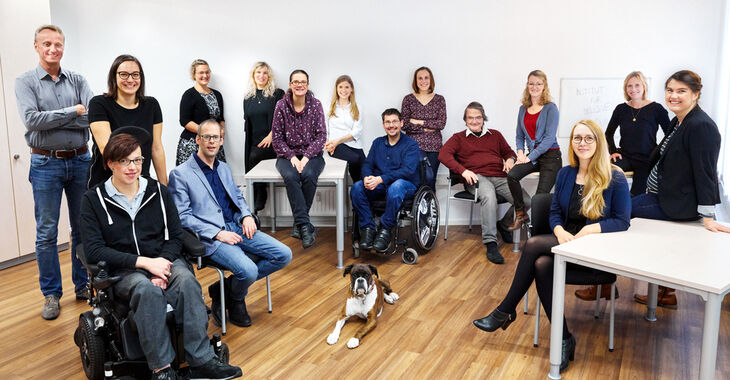 Wir haben 804,57 € Spendengelder erhalten
HERZLICHEN DANK für Ihre Unterstützung!

Das gesamte Team des IIB2 Beratung. Bildung. Arbeit. bedankt sich ganz herzlich für Ihre Unterstützung bei unserer Fundraising-Kampagne. 

Wir danken Ihnen für diesen Motivationsschub und Ihre Wertschätzung unserer Arbeit. Die eingenommenen finanziellen Mittel setzen wir zur Deckung unserer Grundkosten ein. Das bringt uns erneut einen Schritt näher an unser Ziel, mehr Menschen mit sogenannten geistigen Behinderungen eine Qualifizierung zur Bildungsfachkraft zu ermöglichen. Ihre Spende hilft uns dabei.

Vielen Dank!

Ihr Team des IIB2 Beratung. Bildung. Arbeit. (ehemals Institut für Inklusive Bildung)
continue reading
Contact
Hopfenstr. 65
24103
Kiel
Germany


Claudia Pazen
New message
Visit our website